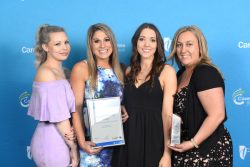 By Victoria Stone-Meadows
The deadline for submissions to the Casey Cardinia Business Awards is getting near with entries only accepted until Wednesday 31 May.
The awards will cover 12 categories as well as the coveted Casey Cardinia Business of the Year Award and People's Choice Award.
All businesses in the region are encouraged to apply for the awards with nominations recognising the best and brightest of businesses in the region.
City of Casey Mayor Sam Aziz said the awards aim to recognise and celebrate the best in business across the region.
"The Casey Cardinia region has a thriving business community and these awards are a chance to celebrate and recognise the contribution businesses make to our region," he said.
"Businesses provide local jobs, boost our economy, deliver great services and products to our residents close to home, and even represent us on a global scale.
"Entering the awards is a great business development opportunity, providing a chance to be recognised, receive publicity, network and establish relationships with other local businesses and business leaders and gain feedback from industry experts."
Cardinia Mayor Brett Owen said even the application process provides a chance for businesses to reflect on their contribution to the south-east.
"The application process itself is beneficial to business owners as preparing the submission provides a chance to step back and review your business, highlight your achievements and the areas that are working well, outline your future aspirations, and determine what could be improved," he said.
"The People's Choice Award is back in 2017, and I encourage members of the community to jump online to nominate a local business that impresses and inspires you."
The categories for the 2017 Casey Cardinia Business Awards are:
* Agriculture and Food
* Business and Professional Services
* Health, Education and Wellbeing
* Home-based Business
* Hospitality
* Manufacturing
* New Business
* Retail
* Social Enterprise
* Tourism
* Trades and Construction
* Environmental Sustainability
* People's Choice Award
Finalists will be announced at the Casey Cardinia Business Breakfast on Wednesday 6 September 2017 and winners will be announced at a Gala Dinner on Friday 27 October 2017 at the Cranbourne Racing Centre.
For more information or to apply for an award, visit www.caseycardinia.com.au/businessawards.