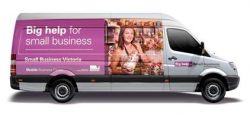 The Small Business Bus is rolling into Hallam.
It offers free mentoring from an experienced business professional to help small businesses to grow.
The mentors can also help people looking to start a small business.
The bus will be in the Spring Square Shopping Centre car park at Princes Domain Drive and Princes Highway in Hallam from 10am to 4pm on Wednesday 14 June.
Bookings are essential for the State Government service.
Visit business.vic.gov.au/sbb or call 13 22 15.