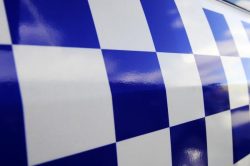 Police charged a 21-year-old Berwick driver for allegedly dragging a policeman along a Eumemmerring road.
It's alleged that police intercepted a vehicle on Princes Highway near Lace Street, just before 12.15pm on Tuesday 11 July, but as they approached, the driver tried to flee the scene and dragged one officer more than 30 metres.
Police charged the man with conduct endangering life and failing to render assistance.
He will appear in the Dandenong Magistrates' Court on 1 September.