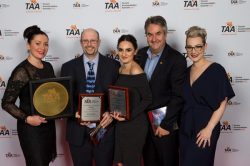 Atura Dandenong received recognition for community service for the second year running.
The Eumemmerring hotel took home the Outstanding Community Service and Achievement award from the 2017 Tourism Accommodation Australia (Victoria) Accommodation Awards.
It won the same award last year in recognition of the community contribution it made through direct philanthropic support and fostering hospitality career opportunities.
Atura Dandenong has supported more than 30 organisations in the past year, through work placement programs to sporting club sponsorship, charitable donations, and business networking group participation and support.
The hotel also supported disadvantaged school students to attend a high school networking day lunch where they were shown career opportunities and practical workforce skills.
"Active participation with and in our communities to ensure they're thriving and vibrant places for people of all ages to live in and visit is a strong focus for Atura," said Atura Hotels operations and development director Geoff York said.
"To be recognised for two consecutive years reinforces that supporting the local community is one of the key priorities for Atura Dandenong."
Atura Dandenong was also a finalist for the Best Mid-Range Accommodation and Hotel Restaurant of the Year awards.
Two staff members were also category finalists – Anastasia Parashis for Hotel Industry Rising Star and Simon Collins for Food and Beverage Employee of the Year.
Atura Dandenong opened in April 2015.