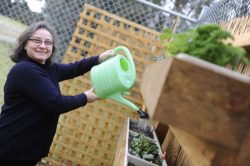 By Casey Neill
A Bunnings blitz breathed new life into the Doveton Neighbourhood Learning Centre garden.
Manager Paula Correia said the outdoor space was instrumental to the Oak Avenue centre.
"The purpose of the garden is to bring the community into the neighbourhood house and to provide a nice place where people can grow food, either take some home or we use it here for our community meals programs," she said.
"We're going to be doing a series of community workshops so people can learn more about container gardening, being seasonal, about being sustainable and organic.
"We can bring people into the garden and show them first-hand."
Bunnings Dandenong team members transformed the existing garden beds for the community kitchen, added in a vertical garden and planted fruit trees and vegetable seedlings.
"The garden started off as just a neighbourhood house program about four years ago, but we just made do with recycled stuff," Ms Correia said.
"It didn't last very long because the materials weren't very good quality.
"After that we started working with the Department of Justice.
"We have some programs here where people come and do some courses with us and help us out with the community garden, but we'd run out of funds."
She said the makeover also included a mural, bamboo screening and paving.
"We're very happy to have new people come here and use the garden," she said.