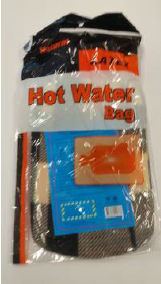 A Hallam retailer is in hot water over burns.
On Monday 31 July, Consumer Affairs, Gaming and Liquor Regulation Minister Marlene Kairouz said a consumer complaint unearthed thousands of faulty hot water bottles from Wens Bros Trading.
The company trades from a retail outlet in Hallam and a Clayton warehouse.
Ms Kairouz said the seams of a hot water bottle split and burnt a consumer, who then tipped off Consumer Affairs Victoria (CAV).
CAV seized more than 4000 faulty hot water bag products from both Wens Bros Trading locations.
Testing conducted for Consumer Affairs Victoria found the products did not have the rubber thickness and seam strength required and failed to meet mandatory safety standards for hot water bottles.
"In the colder months, nothing is better than climbing into bed with a hot water bottle to keep warm – but this shouldn't be accompanied by a fear that the bottle might burst," Ms Kairouz said.
The product also carried insufficient instructions explaining how to use it safely.
A product recall notice for the faulty hot water bottles is online at www.recalls.gov.au.
"It is vital Victorians keep an eye out for these faulty and defective hot water bottles as they could potentially cause injuries," she said.
The public warning followed an earlier recall on exploding birthday candles and other toys and novelty products discovered at Wens Bros Trading.
Ms Kairouz said the hot water bags were unsafe and might not be robust enough to handle normal use.
She urged any consumer who had purchased the product to immediately stop using it and return it for a full refund.
Visit www.consumer.vic.gov.au to report product safety concerns.