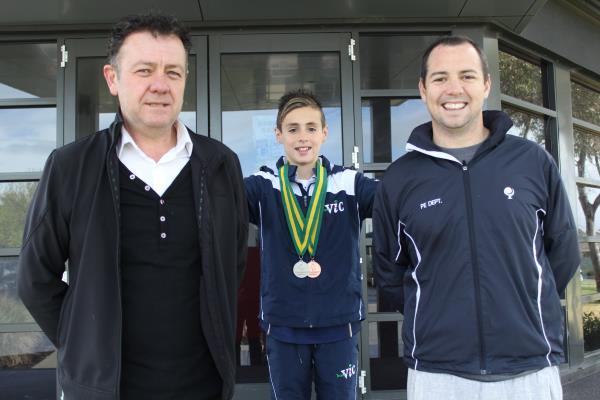 By RUSSELL BENNETT
DYLAN Walker's mum Georgie learnt pretty quickly to never again make a bet with her son, as one earlier this year cost her an iPhone.
The 12-year-old Emerson School student has proven to be an absolute running sensation – storming to a spectacular result in Victorian colours at the School Sports Australia cross country championships in Western Australia. He ran a personal-best time of 11:30 for the 3000m, earning him an individual bronze medal, and he also won a silver as a valued member of the Victorian relay team.
"There were a lot of fast people over there and I was a little bit nervous but it was funny because I made a deal with mum that if I finished in the top three she'd give me an iPhone!" said the Noble Park youngster about the biggest running event of his life so far.
"It was great – I had a lot of fun."
Liam isn't sure where he wants to go next with his running, but he just wants to keep on improving and see how far he can go.
His mentor from the Emerson School, phys-ed teacher Liam Mara, identified his athletic talent almost immediately.
"We just saw that during PE lessons he was a natural athlete," Liam said.
"At the house athletics carnival you could just see his natural running style was there for all to see.
"I didn't have to do too much, to be honest… his natural ability definitely took over.
"We entered him in the state cross country carnival and he had an amazing result, finishing first with a time of 12:10.
"We then went to the SSV (School Sport Victoria) competition – which is all the schools across the state – and his performance there blew everyone away.
"His time was 11:35 in that so he just got better every time."
Dylan is also a prodigious footballing talent, having won a premiership with his beloved Noble Park junior football side earlier this year.
He says his footy has helped with his running.
"If I didn't have football training on twice a week I would probably just be sitting on my bed but it's good because it kept me active," he said.
Liam said Dylan is "just a standout natural athlete," adding: "We've never had a student compete in the School Sport Victoria cross-country event before so during my time at Emerson that's the biggest feat I've seen."
Liam said one of Dylan's biggest strengths was his ability to self-motivate, and that he could run at breakneck speed right from the start of a race.
"To run three kilometres at that one pace is pretty hard to do and he does easily," he said.
"Get him in the middle distances as well and he just cruises through those."
We can't wait to see what he gets up to next.