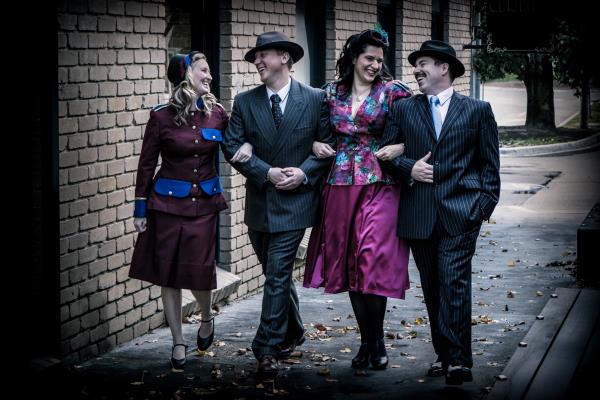 What's On
WINDMILL Theatre Company will present the Broadway classic Guys and Dolls. The high energy, action packed show guarantees to entertain audiences of all ages.
Including the songs Fugue for Tinhorns, Luck be a Lady, Sit Down, You're Rocking the Boat and Take Back Your Mink, the show tells the story of Nathan Detroit (Sean van Geyzel) who runs The Oldest Established Permanent Floating Crap Game in New York – the only problem is he needs $1000 to get the place he wants to run it in.
– Drum Theatre, Lonsdale Street and Walker streets, Dandenong. Opens Friday June 19 and runs until Sunday 28 June. For more information and ticket bookings visit www.drumtheatre.com.au or call the Drum Theatre on 8571 1666.
Neighbourhood Watch dinner
THREE course fundraising dinner with a children's menu available is filling up fast. If 60 or more people attend the Sandown Greyhounds will pay a subsidy of $100 towards Neighbourhood Watch.
– Sandown Greyhounds Entertainment, View Road, Springvale. Friday 17 July at 6.30pm. $16, booking essential, full payment needed by Friday July 10. For further details contact Dawn on 0407 325 030.
Art talk
A part of the Greater Dandenong Libraries' and Walker Street Gallery's Dandenong Art Series, Walker Street Gallery's Visual Arts co-ordinator David O'Halloran will give an illustrated talk about the use of black and gothic themes in Australian art.
– Dandenong Library, Level 2, 225 Lonsdale Street on Tuesday 9 June at 6.30pm. Free event, bookings preferred. Phone 9706 8441.
Karaoke
JOIN the award winning Kool Kat Karaoke Group which has been entertaining members for four years. Each year the group holds a competition with prizes and guest judges and an invited audience.
– Paddy O'Donoghue Centre, 18 to 34 Buckley Street, Noble Park. The group meets every Friday afternoon 1pm to 3.30pm.
Me and my dad
HAVE some fun with dad and learn about plastics and their molecules in the Dandenong Library's science program.
– Dandenong Library, 225 Lonsdale Street, Dandenong. Saturday 13 June, 2pm to 3pm. Free event, bookings essential. Phone 1300 630 920.
Probus
THE Combined Probus Club of Waverley Gardens provide guest speakers, the dine out, garden, wanderers, walking, card, craft and coffee groups and trips and outings. New members are made welcome.
– Vegas Venue, Waverley Gardens Shopping Centre, corner of Police and Jacksons roads, Mulgrave. Meet on the last Tuesday of each month from 9.45am to noon. Call Don Lambie on 9560 6046 or Rick on 9801 4049 or email: wavgardcomprob@gmail.com for more details.
Self-defence class
THE Australian Shukokai Karate dojo club in Dandenong is hosting a two hour self-defence course with most of the proceeds going towards the Women's Cancer Foundation.
Sensei Ennio Anselmi will take participants through real life self-defence scenarios and teach them how to properly make a fist and how to punch and block hard.
– 2/147 Greens Road, Dandenong. Thursday 18 June. Cost $25, 7pm to 9pm.
Red Cross turns 36
FRIENDS of Red Cross in Hallam is celebrating its 36th birthday with Eunice Welch of the Red Cross Stamp Collection Department a guest speaker.
– The Hallam Community Learning Centre, 56 Kays Avenue, Hallam. Monday 15 June, 1.30pm, entry costs $5. Book with Betty on 9774 0194.
Relay for Life
THE City of Greater Dandenong's 2015 Relay for Life is already in planning and the team is hoping to get new members to raise money for the Cancer Council.
– Saturday 10 October, 3pm start to Sunday 11 October 9am finish. Ross Reserve Athletics Track, Memorial Drive, Noble Park.
Hand sewing workshop
JOIN acclaimed textile artist, Leesa Chandler and her team on a week-long series of workshops exploring the art of hand sewing and stitchery techniques.
There will be a pop-up design studio, sewing studio and shop with workshops run by Leesa. Suitable for people with some experience in sewing.
– Corner of Ballarto Road and Botanic Drive, Cranbourne, off South Gippsland Highway. Meet at the Visitor Centre, 10am to noon and 1.30pm to 3.30pm on Tuesday 18 August and Sunday 23 August.
Grief support
KEYSBOROUGH Learning Centre will host Rainbows for the Children of Australia's after school program to help kids deal with death, divorce and more.
– Keysborough Learning Centre, 402 Corrigan Road, Keysborough. Tuesdays during terms two and four, 4.30pm to 5.30pm. Bookings are essential. Register interest on 9798 7005, Monday to Friday, 9am to 4.30pm.
Free hearing tests
BETTER Hearing Australia will offer free consultations and hearing tests in Lynbrook and surrounding suburbs to help people suffering with hearing loss better manage their condition.
Services include hearing tests, hearing screenings, understanding hearing test results and advice on managing hearing loss or tinnitus.
Better Hearing Australia (Vic) also runs the Victorian Hearing Aid Bank where eligible people can access free hearing aids.
– Lynbrook Community Centre, corner Lynbrook Boulevard and Harris Street, from 9.30am to 4.30pm on 4 June, 2 July, 6 August, 3 September, 1 October, 5 November and 3 December. For further information contact Better Hearing Australia on 1300 242 842 or visit www.betterhearing.org.au.
Walk the centre
CRANBOURNE Park offers health walks where participants are taken by a qualified instructor from the YMCA.
Registrations can be taken on the day and participants are encouraged to wear loose fitting clothes and comfortable walking shoes.
– Tuesdays and Thursdays at 7.40am in the fresh food area and the walk finishes at 8.45am.
Ballroom dancing
JOIN in the social mixed styles of ballroom dancing at the Burden Park Bowling Club.
There's ballroom dancing every Monday from 6.30pm to 10pm, and every fifth Saturday there's dancing from 1pm to 5pm and ballroom from 8pm to 11pm.
BYO supper, drinks and glasses.
– Burden Park Bowling Club, corner Heatherton and Springvale roads, Springvale South. Mondays are $5 per person and Saturdays are $8 per person. Phone June on 9798 1784 or Ray on 9547 1907 for more information.
Library Toddler Time
THESE free sessions are designed to help children aged two to three to develop their imagination and vocabulary and find a love for books and reading.
Toddler Time also helps carers to learn songs, finger plays and nursery rhymes to enjoy at home.
– Springvale Library, 411 Springvale Road, Springvale, and Dandenong Library, 225 Lonsdale Street, Dandenong, on Mondays at 10.30am. Bookings are not required. The sessions don't run on school or public holidays. Call 1300 630 920 for more information.
Healthy and deadly
YOUNG people can learn about looking after themselves and their mob, meet new people, learn skills, connect with their culture and more at this Koorie program. It's for ages 14 to 21 and food is provided.
– YStop Dandenong, 39a Clow Street, opposite Dandenong Market. Tuesdays, 4pm to 6.30pm. Call Youth Services on 9793 2155 for more information.
The Social Knitwork
KNITTERS and those who want to learn the craft can join the Social Knitwork each Wednesday morning.
Make new friends while developing skills and sharing patterns and stories.
– Dandenong Library, level two, 225 Lonsdale Street, Dandenong. Wednesdays, 10.30am to noon. No bookings required.
Creative art therapy
EXPLORE inner thoughts and feelings through art making in a creative art therapy class.
– Neighbourhood Learning Centre, 34 Oak Ave, Doveton. For more information phone 9791 1449.