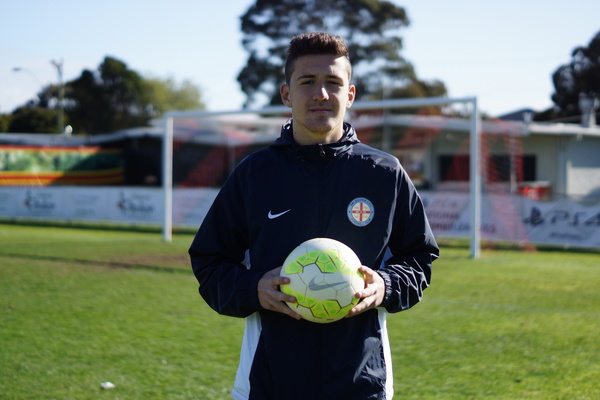 By JARROD POTTER
THE first step on the path to his boyhood dream – pulling on a Socceroos' jersey – is about to begin for Dandenong soccer star Mersim Memeti.
Trading his Thunder and Melbourne City gear for the Australian colours for a fortnight, Memeti, 15, was picked by Joeys' coach Tony Vidmar to be part of the 23-man squad for the upcoming ASEAN Football Federation (AFF) Under-16 Youth Championships in Cambodia, starting this week.
While Memeti is happy to let his soccer do most of the talking, he was thrilled to get a chance to wear the Australian uniform and never wants to take it off as he hopes to one day progress to the national senior side.
"It's pretty good and I'm proud to make it," Memeti said.
"I was feeling pretty happy and pretty proud when they told me and I'd love to win the tournament with the team.
"I would love to play in the Socceroos one day – it's playing for Australia… it's a great experience for me… just need to take it step by step."
Memeti's Cambodian journey will be action packed as Australia prepares for the AFC Under-16 Championships as part of the qualification process for the Under-17 World Cup.
The Joeys are in Group B for the Phnom Penh-based tournament which started last week and will taking on Singapore, the Philippines, Myanmar and Cambodia.
Memeti will line up in the Joey's defensive end, just as he has plied his craft playing for Dandenong Thunder and the Football Federation Victoria (FFV) side while training with Melbourne City's NPL1 team.
But it could've been a different tale for the young defender, who started his soccer journey as a goalkeeper.
Destiny called however and he threw aside the gloves in favour of heading feet-first into his soccer and hasn't looked back on the move.
"I play centre back for Melbourne City and Dandenong Thunder and will play centre back for Australia too," Memeti said.
"I started my career as a keeper, then I went to left wing… but I'm happy to stay on the field."
He wanted to thank his family for their support, Melbourne City and Dandenong Thunder and everyone associated with the FFV development program.