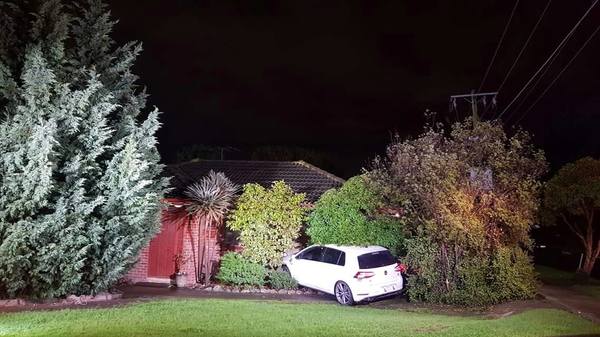 By Cam Lucadou-Wells and Brendan Rees
At first, Chantal George thought what there had been a loud crash out in the Eumemmerring street in the wet, early hours of Monday 3 June.
Still awake at 1.30am, she ran to investigate – and then noticed her front lounge room.
Poking through its shattered front windows was the nose of a white Volkswagen Golf, headlights on and wipers running.
She called for her husband Chris to phone for an ambulance to the Doveton Avenue address.
By the time she got outside to assist, whoever was in the stolen crashed car had fled.
Fortunately Chris had not fallen asleep on the lounge-room couch this particular night, she said.
Two of their sons were also home asleep.
"I've said to my husband that one day someone is going to come through that window," a shaken Ms George said.
"I have always wanted a front fence."
Police say a Hawthorn man reported that the Golf was stolen, with the driver still at large.
The cause of the crash and the circumstances of the theft were still under investigation.
Narre Warren SES that night boarded up the extensive damage.
It got the call out while attending a truck that lost a load of timber and plants on Abeckett Road, Narre Warren.
"This was the second car through a house in a matter of days that we've responded to," Narre Warren SES spokesman Aaron Heathcote said.
"Last Wednesday evening a car hit a house in Cranbourne. Thankfully there were no injuries."
For Ms George, the crash came on the back of a series of personal setbacks this year.
"It was the last thing I needed.
"I've got the family support. Everyone at work and school have rang up.
"It helps to have the community around you."
Any information to Crime Stoppers on 1800 333 000 or submit a confidential report online at www.crimestoppersvic.com.au