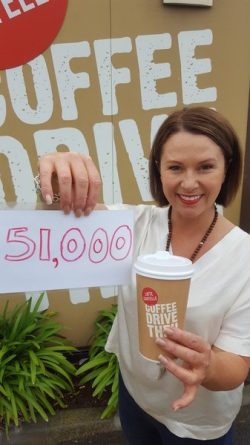 A Hallam drive-through is turning coffee into fresh drinking water.
Latte Cartelle Coffee Drive Thru donates a day of fresh drinking water to Africa for every cup of coffee its sells.
The Princes Highway business has donated more than 50,000 litres since starting the project in July.
Latte Cartelle joined forces with global initiative Buy1Give1 and chose Malawi and Kenya in Africa to receive its donations.
Sisters Linda Tsiokas and Allison Pickett opened their first of four drive-through coffee outlets in 2004.
"At the end of the day something was missing," Ms Tsiokas said.
"When we think of our privileged lives we knew we could do something great."
She was a registered nurse before her foray into the coffee world.
"We came to a point in our business where we wanted to do something beyond our own financial objectives, something good for the world," she said.
"When I think of the 51,000 smiling faces on the kids who now have access to fresh drinking water, it certainly makes selling coffee so much more rewarding."
Ms Pickett said customers were interested in the difference that they were helping to make.
"They wait to see the monthly contribution updates," she said.
Latte Cartelle will donate an extra 500 days of fresh drinking water when customers present this story in print or online in any store.