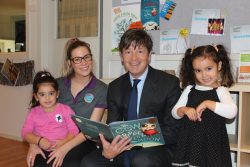 Budding book worms in Endeavour Hills received some special encouragement to read.
Narre Warren North MP Luke Donnellan visited Goodstart Endeavour Hills – Barnsley Drive to promote the annual Premier's Reading Challenge on Friday 5 May.
He hosted a special storytime with children, their educators and parents.
Centre director Peta Wilkinson said it was important to encourage a child's love of books from infancy.
"Books introduce new ideas, new words, and opportunities to learn about the world," she said.
"Inspiring a child's love for reading and storytelling from an early age is something we embed in our daily practice.
"We know from evidence that reading to and with young children promotes brain development and language learning skills."
Mr Donnellan shared that he grew up in Italy until he was eight and had a passion for the importance of early years literacy.
For the Premier's Reading Challenge, preschoolers must read 40 books with a parent, guardian or educator at their early learning service between March and early September.
"The challenge is also a great opportunity to get families involved to share the joy and wonder of discovering a new book together with their child," Ms Wilkinson said.