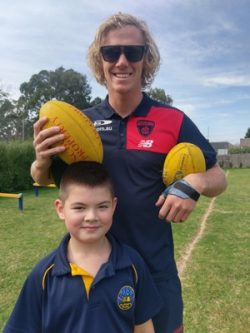 Melbourne Football Club players inspired Doveton students to get active at a recent school visit.
Maranatha Christian School's Doveton junior school welcomed Mitch King, Billy Stretch, Alex Neal-Bullen and Josh Wagner as part of the AFL in Schools program.
The footballers took students through a range of skill drills covering handballing, kicking and marking.
They also answered questions about life as an elite athlete, why they chose a career in football, how they were drafted, what they eat and more.
The AFL in Schools program is designed to give students the chance to meet and engage with sportsmen performing at the highest level and inspire them to get outdoors and pursue a sport.