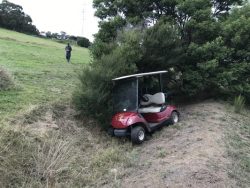 By Casey Neill
Three golf carts stolen from an Endeavour Hills course are feared long gone.
But Churchill Park Golf Club manager Tim O'Sullivan still has hope that someone witnessed the Saturday 29 April heist.
He said workers arrived at the Churchill Park Drive course just before 6am on Sunday 30 April and found a roller-doored storage shed had been broken into.
Four Yamaha golf carts were missing. They're valued between $5000 and $7000 new and were two years old.
Police believe the thieves rolled the carts out of the shed and manipulated the ignitions.
"At the time we had a whole lot of groups that were booked on the day that required golf carts," Mr O'Sullivan said.
"We got hold of most of them before they arrived.
"It was a fairly big impact.
"We managed to located one of them about a kilometre up the road in a ditch, which we managed to salvage and got back.
"We repaired that and it's back in the fleet."
Mr O'Sullivan hoped the others would also show up, but believes that is increasingly unlikely.
"We certainly hope to get them back in some way, shape or form, but as the days go by… " he said.
"If they haven't turned up now, they're long gone."
The carts are burgundy with cream features and have the golf course coat of arms on the front.
The missing carts are numbered five, six and seven.
Call Casey CIU on 9705 3111 with any information.