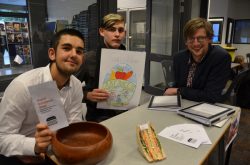 By Casey Neill
Hallam students got a taste for entrepreneurship through a week-long business experience.
Illuminate Education spent a week at Hallam Secondary College from 15 to 19 May working with five teams from the school plus one each from Dandenong High School and Keysborough College.
Founder Adam Mostogl said that, in short, they taught the students how to start a business.
"We gave them a challenge of looking for something in the preventative health space, looking at some of the health data that's around," he said.
"They've gone from the idea generation stage all the way through to writing business plans, financial forecasts, marketing collateral, pitching their idea, and understanding how the changing world of work happens."
The Year 9 and 10 students came up with plans for a juice bar, a food van with healthy sandwiches, healthy cooking classes, dance and yoga, and fitness groups.
Mr Mostogl said the students now had the skill set to be able to start their own business.
"If they don't go and start a business there's a very good chance they're going to work in one, so now they understand how a business works, the margins and different things like that," he said.
Mr Mostogl said the students also learnt and developed skills around independent learning, and financial and digital literacy.
"Working in small teams and collaborating is a really useful skill for wherever they go in life," he said.
The week concluded with trade display stalls and reviews from business professionals.
Student Callum and his team came up with the idea of a food truck with healthy options.
"Instead of being hot dogs, hot chips, things like that, we sell fresh sandwiches and fresh juices," he said.
He said only a small number of Casey residents were eating enough fruit and vegetables.
"It was a really good program," he said.
"It was a lot of information to take in, but you did have team members to work with."
Blake's team developed a business that sold fresh juice and fruit and vegetables.
"Lots of people are drinking unhealthy drinks in the morning and just in general," he said.
"There are businesses like Boost but they have a lot of sugar. Ours is just fruit."
He learnt that "there's a lot of work that has to go behind the scenes and a lot of financial stuff, which was confusing".