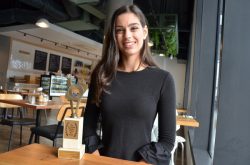 By Casey Neill
An international film award has further convinced Laura Rigon that with hard work, she'll achieve her dreams.
The Endeavour Hills actress won the Best Supporting Actress honour at the Nice International Filmmaker Festival of World Cinema in May for her role in Somewhere Over That Rainbow.
"I'm still gobsmacked," she said.
The movie followed the journeys of six young people searching for acceptance and freedom.
It highlights the harsh realities of what bullying, low self-esteem and hate can do, but aims to prove that love wins.
"My character was the role of Summer," she said.
"She was a lesbian. Her parents didn't accept her. They thought it was a phase.
"They all find each other and find a way to find acceptance and happiness."
It was the 21-year-old's first role in a feature film and her first acting award.
She's hopeful the nod will help to secure a visa, so she can work in Los Angeles in America next year, after she wraps up a diploma of entertainment business management.
Laura already has a stint in LA under her belt.
She moved to Hollywood after finishing high school at Gleneagles Secondary College and completed The Australian Film and Television Academy's (TAFTA) LA intensive "which was eye-opening and crazy".
"You meet industry professionals like you're in the business," she said.
"It's a really great way to get a foot in the door."
Laura's parents enrolled her in children's theatre when she was six years old to help her overcome shyness, and she joined TAFTA at age 12.
"I found I really enjoyed meeting new people, working with industry professionals," she said.
"I started doing things like short films, which really helped with getting on-set."
A yearning to be around fellow creatives is driving Laura's move to LA.
"In Los Angeles, everywhere is a set," she said.
"You will see people filming literally everywhere.
"Everyone over there has some sort of part in the industry.
"Meeting people on the street, everyone is someone to network with, someone to collaborate with and someone who understands where you're at.
"I find in Australia not everyone understands my chosen career path.
"I struggle with that a little bit."
She said moving from suburban Endeavour Hills to bustling LA was a culture shock.
"LA is massive," she said.
"The traffic is 1000 times worse than Melbourne.
"You find yourself in a place where you believe anything can happen.
"You can be studying scripts one night, to a couple of nights later being at a mansion party.
"It's the place of dreams.
"I've made a few friends over there. A few have just finished own Netflix series.
"It kind of solidifies in your mind that anything is possible.
"You see people working really hard for what they want and making it for themselves.
"I try to keep realistic goals.
"I would love to be a professionally-paid working actor on television in America.
"I think television is more consistent, and you have more chance to tell your story and more character arc to play with."
She admires series like Riverdale, Jessica Jones, The OA and Stranger Things – "those types of television shows that have more depth to them" and are "thought-provoking that can also potentially inspire people to do better for themselves".
In terms of role models, Laura said she'd followed the progress of Krysten Ritter and Margot Robbie and hoped to replicate their success.
Ritter first captured attention with a minor role in Gilmore Girls and has since starred in several shows.
Aussie Robbie launched from Neighbours to feature films.
"I've watched them for God only knows how many years," Laura said.
"You can really see how much work they've put into their careers.
"I love seeing actors work their butt off."
Ahead of her move, Laura has been working her butt off to perfect her American accent with well-known coach Amy Chaffee.
"I like to think it's pretty good – time will tell," she laughed.