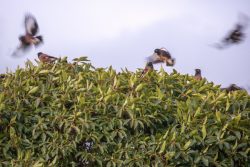 By Casey Neill
Now up to plan C but noisy mynas are sitting tight…
New netting could give meddlesome mynas their marching orders from a Hallam nature strip.
Charles Avenue resident Vera Mezentseff said the noisy Indian myna bird flock was nesting in the tree outside her neighbour's property, disturbing her sleep and wellbeing.
She went to the City of Casey for help and at its 6 June meeting councillor Wayne Smith successfully moved for action against the 150-odd introduced pest species as a "matter of extreme urgency".
Ms Mezentseff said plan A was to set up traps and plan B was to trim the trees.
"That didn't work," she said.
"Now we're up to plan C."
The council planned to install netting over the tree on Wednesday 16 August but wild winds caused a delay.
"It is a major problem," Ms Mezentseff said.
She's lived there almost two years.
"In the morning they'll come in say 5.30am to 6am and the whole tree is infested with these birds," she said.
"They go to about 7am.
"In the afternoon they start up again. They fly in about 5.45pm.
"During the night if they're disturbed they'll go off again.
"It doesn't matter if you're sick or it's the weekend, they just fly in and they will not stop chirping and screeching for that whole hour."
Ms Mezentseff said every leaf and every branch in the tree was covered in bird poo, and the footpath also wore the excrement.
"So it is a health issue as well. They do carry diseases," she said.
She said the council pledged to monitor the situation once the net was in place.
"We're hoping that they don't decide to jump in someone's backyard and sit in their tree," she said.
"It's a pretty big project but I can't do this.
"If you have a restless night and then the birds are at it at 5.30am, it's like they're ruling your life."
She said development in surrounding suburbs seemed to be driving the birds into larger packs.
"It looks like this area is being invaded, I suppose," she said.
"Prior to me, neighbours were trying to hose them down but as soon as you put the hose away they're back at it.
"Rubber snakes in the tree hasn't worked. Throwing stones at the tree hasn't worked.
"I've been using cotton balls to try to sleep and not to be woken by them.
"In the afternoon you have to put your TV louder to not hear them."
Cr Smith said the situation was the council's responsibility because it planted the tree.
"I'm just glad that there's a resolution. We're working hard to try and fix it," he said.
He said audio recordings of the birds in full voice was "shocking".
"You can't live with it," he said.