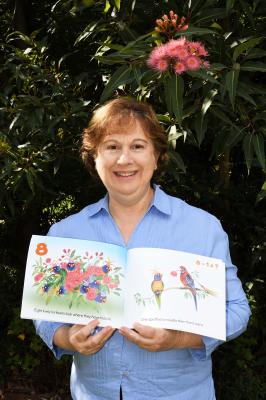 By Cam Lucadou-Wells
Learning can indeed be fun.
The proof lies in Endeavour Hills author Grace Nolan's debut counting-book series One to Ten And Back Again.
The series of three – Ten Naughty Numbats, Ten Bush Babies and Ten Lively Lorikeets – dresses up "complex" concepts with catchy, humorous rhymes, rhythm and alliteration.
It's not just fun but a learning aid, Ms Nolan said.
"I want to make learning so much fun – that is what it's all about."
Ms Nolan's love of Nature also shines through.
She features 30 native animals such as numbats, quolls, quokkas, koalas and brolgas, all beautifully illustrated by Nancy Bevington.
Getting published as a children's author in Australia is notoriously difficult. Yet Ms Nolan's Australian publisher Big Sky Publishing leapt at her submission.
Within months, the first book is in its second printing, with overseas interest in a Turkish-translated edition.
"They love the fact the books have native Australian animals," she said of the Turkish interest.
Ms Nolan, an English teacher of 30 years, says she well understands children's early struggles with maths.
Her books are a "subtle" introduction to counting, addition and subtraction, she says.
"My reason for doing this is my inspiration. I've seen children struggle with very basic numeracy and literacy.
"This is a way to have a solid foundation in their understanding of numbers while they want to come back to the books again and again."
Without the basic building blocks, students get into "muddles" even well down the track in their studies.
One of Ms Nolan's Year 10 students had writing issues that could be traced back to not knowing the alphabet.
"Something as simple as that left him struggling to write clear sentences.
"So they have to go all the way back to learning the basic alphabet.
"But if you learn it from the start, children don't have to be muddled and self-conscious."
The One to Ten And Back Again series is endorsed by Australian Geographic and published by Big Sky Publishing.
Details: gracenolanauthor.com