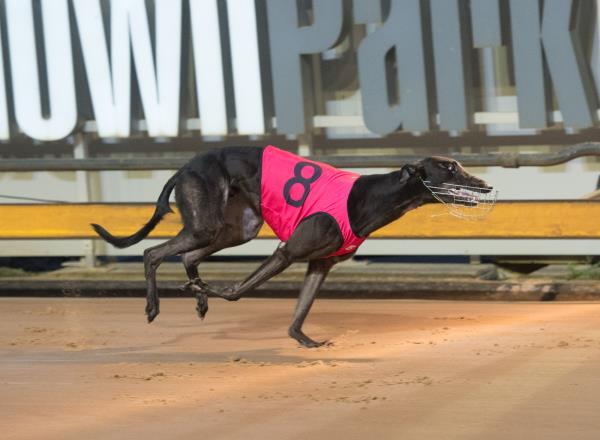 By JASON ADAMS
RALPHY Cinel claimed his third win in a row on Thursday evening at Sandown Park, having produced a dominant display to win by six lengths.
In his 27th career start and eighth at Sandown Park, Ralphy Cinel sprung out of box eight to lead clearly first time past the post. Ralphy Cinel stopped the clock at 34.10, justifying his $2.50 favouritism.
Trainer Joe Borg has only been training the greyhound since early April and hasn't always had the highest opinion of his chaser, however owner Michael Crowe has always thought otherwise.
"Initially I wasn't too keen on training him, though Michael was adamant the greyhound had some serious ability – so in the end I decided to give him a go.
"After a month of training him I was surprised by the way he was able to improve every week, and it was then I realised he had some real talent." said Borg.
Although Ralphy Cinel has led four of his past five races, Borg believes he could have been even faster early if it wasn't for injury.
"He had a minor injury and that took quite a while to heal – unfortunately I think it's taken a couple of lengths away from him."
With the Group 1 SOLO Bold Trease just one month away, Borg has decided to bypass the series, instead head to December's Group 1 Sale Cup.
"I don't think he will be able to run a strong 715m for the Bold Trease though I hope he maintains this type of form – I'd love to take him to the Sale Cup, he'd be more suited to the 650m there."
TAB Melbourne Cup Prelude Series 3 will be run this Thursday night at Sandown Park, winners of each Prelude automatically qualify for the heats of the TAB Melbourne Cup on Thursday 13 November, with the $600,000 final to be run on Friday 21 November.