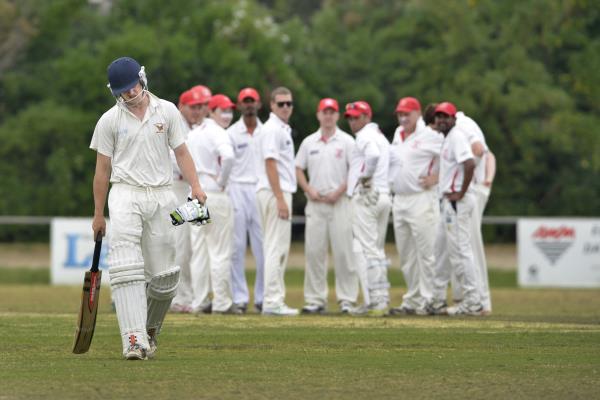 By DAVID NAGEL
DANDENONG DISTRICT CRICKET ASSOCIATION – Round 2
DOMINANT outright victories, a quality run-chase and superb bowling efforts from two teams that look sure to figure prominently at the end of the season… the conclusion of DDCA Round 2 had a touch of everything on Saturday.
BUCKLEY RIDGES v BERWICK
A DESPERATE, and in the end, successful bowling change from Berwick (9/311cc) skipper Jarrod Goodes has landed the Bears maximum points against Buckley Ridges (66 and 116) at Park Oval.
Defending their imposing score from day one was never in question for the Bears, skittling Buckley earlier in the day, but claiming the most important wicket… number 20… was proving quite elusive in their quest for outright points.
Buckley's Wes Nicholas (8) and Lukas Hoogenboom (15 not out) had kept everything out during their 21-run last-wicket stand, but one ball from Goodes, with just one more over remaining, trapped Nichols in front and the Bears tucked 10-points into the cave.Goodes (4/17) was the pick of the bowlers in the early rout, while Dushan Wickramarathna (5/52) backed up his fine knock from day one (83) to be the second innings destroyer.
DANDENONG WEST v COOMOORA
A PETER Atkinson (3/18 and 6/28) master class has steered Dandenong West (228) to outright victory against an extremely disappointing Coomoora (83 and 56) at Greaves Reserve. Sure… Atkinson had help… from Shaun Weir (4/35) and Jacob Weeks (3/20) in the first innings, and from Weir (2/22) again in the second, but his performance in taking nine wickets for the afternoon was truly outstanding.
It's worth remembering, that Atkinson (48) and Weeks (40) did change the complexion of this match with some late order runs on day one.
PARKFIELD v MORDIALLOC
MORDIALLOC (8/212dec) faced its sternest resistance for the match – but that wouldn't be hard – before claiming outright points and ladder leadership against Parkfield (38 and 95) at Parkfield Reserve.
The Bloodhounds, who needed just five wickets to complete the outright rout, were held up by Matt Aslett (36) and Tony Payne (22) before Stuey Squires (4/10) ran through the lower order.
Chathura Athukorala (3/4 and 4/23) claimed seven wickets for the match and proved too hot for the Bears to handle.
LYNDALE v NORTH DANDENONG
THE only successful run chase for the day occurred at Lyndale (241), where North Dandenong (6/244) pair Clayton McCartney (80 not out) and skipper Shane Clark (59 not out) combined for an unbeaten and match winning 120-run stand.
In trouble at 4/56, the visitors relied on Craig Gunawardana (37) to dig them out of a hole before the talent-laden McCartney and Clark steered their side to victory to make it two from two to start the season.
HALLAM KALORA PARK v SPRINGVALE SOUTH
LAST season's runner-up, Springvale South (278), locked in its first win of the season after a successful defence against Hallam Kalora Park (157) at Hallam.
The home side looked good at times, with Rhys Serpanchy (40) and Ben Hillard (30) leading the way, but it lost wickets in a hurry… and at inappropriate times. Ruwan Kellepotha (4/51), Tim Ford (2/18) and Yoshan Kumara (2/35) were the pick of the bowlers for last season's minor premiers.
HEINZ SOUTHERN DISTRICTS v CRANBOURNE
AN OMINOUS looking Cranbourne (277) has powered through HSD (154) at Reedy Reserve.
Adam Semmens (56) and Garrick Wiramanaden (36) gave HSD just the start it was looking for, but once their 80-run union was ended… Cranny went in for the kill.
The deadliest-duo in the competition, Te Ahu Davis (4/22) and Steve Spoljaric (2/36), once again came to the fore.