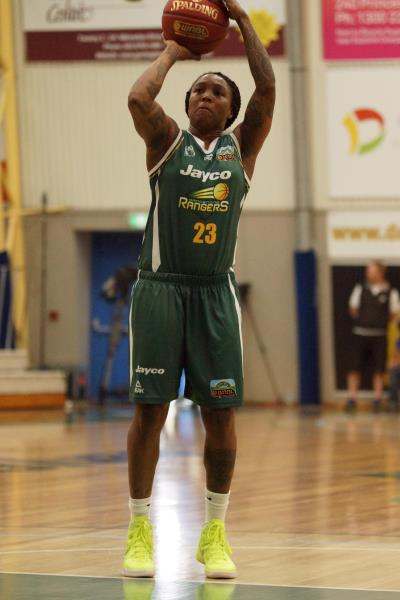 By RUSSELL BENNETT
JUST three points. For everything that went wrong for the Dandenong Rangers in their WNBL home clash with the Sydney Uni Flames on Saturday night, they still only lost by three points – 81 to 78.
The Rangers were soundly beaten on the glass for most of the night, missed a host of uncontested layups, and some of their key contributors were kept eerily quiet; yet they still nearly escaped with a win.
It was the second time in less than a week that coach Mark Wright's side nearly pulled a rabbit out of a hat. Yet instead of being 2-0 in the win column for the week, they came away 0-2 with losses to the Flames and Adelaide.
WNBA superstar, American import guard Cappie Pondexter showed why she's one of the world's best players with a brilliant individual game against the Flames – finishing with 30 points, 10 rebounds and four assists. Despite only measuring 5'9" in the old scale, or 175 centimetres, she plays with the strength of a forward – constantly finishing plays at the hoop despite facing heavy contact.
Sydney led by just four points at the end of the first term, 20-16, but it was one of real frustration for the Rangers. Their shots, from both long and short-range, just weren't falling.
The Flames stretched the margin out to 12 points in the second quarter before, piece by piece, the Rangers started to get their act together on the offensive end and trailed by just five points at the half, 40-35.
But the deficit was back out to 10 points, 64-54, in a much more free-flowing third quarter.
Starting centre Lauren Scherf, just 18-years-old, and her backup Amanda Meinking, also 18, didn't exactly have standout offensive nights for the Rangers but showed plenty in limited minutes.
Rangers' star forward Alice Kunek (shoulder) also dusted off the cobwebs in her first game back.
"No matter what you say about the result – and it's disappointing, definitely – the team has one player back from last year so it's going to take some time (to gel)," Wright said after the Sydney game.
"But the team has shown some great resilience against Adelaide, and again tonight.
"We've got some young, inexperienced players who are coming along nicely and then when you have one of the best players in the world in Cappie Pondexter you're always going to give yourselves a chance.
"She's incredible and we're just so lucky to have her."
Wright acknowledged the Flames' offensive rebounding gave them a big edge – allowing them second and even third chances to score at times.
"That's something we want to hang our hat on and today we were crushed by them so we need to raise the bar there," he said.
"The same thing happened against Adelaide on Thursday – with 20 seconds to go we were two points down and missed an open three.
"Tonight we were two down and turned the ball over."
Wright knows this WNBL season is a marathon, not a sprint.
"This team is going to be really good," he said.
"All we have to do is get our foot in the door of the finals and we'll give it a real crack."
Earlier in the week, on Thursday, Adelaide Lightning scraped home against the Rangers by five points; 68-63. Pondexter and Tegan Cunningham led the way for Dandenong with 19 points apiece.
The Rangers are on the road for a pair of away games this week – against the Spirit in Bendigo on Thursday night, and at the AIS Arena against the Capitals on Saturday afternoon.