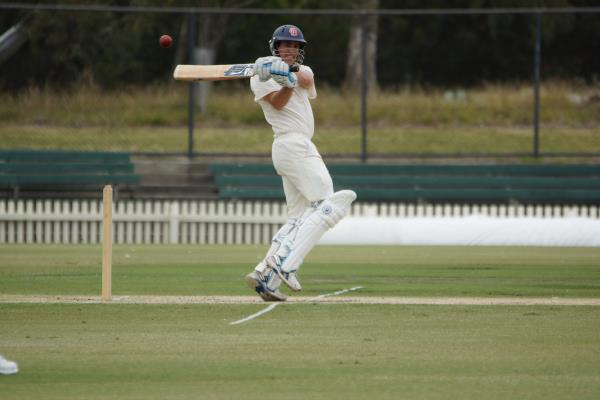 By JARROD POTTER
Premier Cricket – Round 7 (day 2)
WHILE it wasn't for the win, Dandenong's (6/287 and 128) batting on Saturday showed great signs of promise and significant improvement over last weekend.
St Kilda (3/131dec) quickly earned first innings points and with the clouds darkening over the Junction Oval and starting to spit, Graeme Rummans decided to send the Panthers back in for a second bat.
While the noise of St Kilda Road traffic and blaring construction thundered across the field, it didn't detract from the glorious initiative put on by Panthers' trio James Pattinson (95 not out), James Nanopoulos (45) and the opening combination of Brett Forsyth (36) and Tom Donnell (35).
The Australian Test all-rounder – still disallowed from bowling in the VPC ranks this season – made his mark instead with the blade as he punished anything on a good length and was cruelly denied his century by the end of play. Outside of a well-made 127 in the secondary squad in 2008/09, Pattinson's innings on Saturday was his highest knock in Premier Cricket and sent a message through the ranks that his batting is on the rise while his bowling is on sabbatical.
Nanopoulos continued to chip in at number seven, as he has done all season. In his six innings, Nanopoulos has yet to fall beneath double figures and struck his way past 25 on five occasions, including 36 and 45 in this round against St Kilda.
The top order tandem of Forsyth and Donnell also showed their mark of improvement, batting through the spitting rain to add 60 for the first wicket before Donnell was given LBW, much to his own dissatisfaction before Forsyth was out caught by former Panther Matt Chasemore (2/44).
Sitting in 14th on the VPC ladder, Dandenong will host reigning premiers Footscray-Edgewater in a two-dayer across next weekend.
VSDCA SOUTH EAST 1st XI – Round 5 (day 1)
ENDEAVOUR Hills (240) was spearheaded by the bottom of the order as Elsternwick (0/10) struggled to end the innings.
Zach Allen (46) kept up the runs as he added his fourth score above 40 this year before the middle order fell away.
It began a fall-away through the middle ranks before Gamindu Amarasinghe (35) started a fight back. His efforts kept the Eagles soaring before the stellar efforts of Ben Swift (59) and Shane Peake (54 not out) tipped the scales back in Endeavour Hills' favour. Peake held up the final breath of the Endeavour Hills innings to push the visitors to 240 and leave quite the headache for Elsternwick to chase.
NOBLE PARK (150) fell away after a stunning opening stand between Sanjeewa De Silva (50) and Jake Richardson (44) as Caulfield (2/82) took back the reins.
De Silva and Richardson struck cleanly and powerful against the Caulfield attack but once they were lost to the cause, Noble Park fell away dramatically.
Luke Bartholomeusz (5/47) and former first class cricketer Brett Dorey (2/26) then began the march through the Bulls' order as Noble Park failed to make anything of their stellar start.
Dirk Vandergert (20) and Ash Perera (12 not out) made the most of a last ditch effort to keep the Bulls at the crease. Caulfield will resume at 2/82 with Rob Johnston (1/4) taking the important scalp of Ricky Damiano (40).