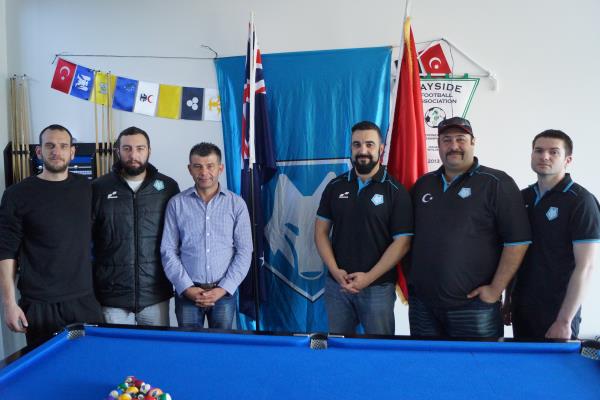 By JARROD POTTER
RESPECT… discipline… culture – the three main principles Dandenong Wolves FC want to abide by in 2015.
The Noble Park North-based soccer club has already seen great growth in its first four seasons in the Football Federation Victoria (FFV) competition and the Wolves hope to add to the pack next year.
Dandenong Wolves' senior coach Marc Canbolat said – before Saturday morning's season launch – the club is ready to take the next step professionally and create a stronger environment for families and players.
"Three simple facets in brief – culture, respect and discipline," Canbolat said.
"We're proud to be able to say as a self-awareness of the group that people sitting around the table here today (Saturday) can comfortably look in the mirror and say we were lacking all those things.
"We wanted them, but maybe weren't sure how to apply them, and maybe from a lack of over-empathy and too much care for the people within the club, we probably weren't as strict and stern enough to apply those fundamentals… there can't be a compromise.
"That's where the sternness is coming from – we need to make sure everyone is towing the line… we have to live up to those ideals."
The Wolves – which was started by a group of first generation Turkish people who wanted to play together – want to be known as a premier soccer club within the City of Greater Dandenong in years to come and are taking steps to ensure they live up to their potential.
"We want to be a club that Dandenong can be proud of," Canbolat said.
"We've got the Thunder (NPL team) which we feel proud of as Dandenong citizens… and we want to live up to similar expectations.
"If everyone is putting in 100 per cent effort for 100 per cent of the time and to do it in a respectful manner as well, that's all we can ask."
The Wolves had five senior and junior teams in this year's FFV competition – with the Wolves senior men squaring off in State League 4 South – and the club also hopes to add women's and girls' teams in 2015 and welcomes new players from any background.
For more information on the Dandenong Wolves – based out of WJ Turner Reserve, Noble Park North – visit their Facebook page "Dandenong Wolves Dandenong Turkgucu" or contact the club at info@wolvesfc.co.