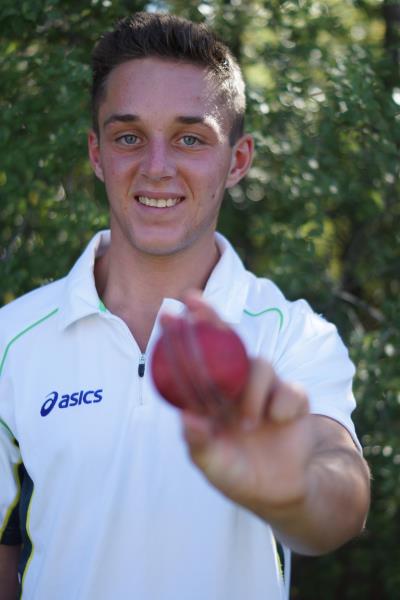 By JARROD POTTER
A CHANCE turf outing set the wheels in motion to earn Lachie Macrae a run in the green and gold.
After representing the Ferntree Gully and District Cricket Association (FGDCA) – and helping earn the association claim the VMCU Jim Beitzel Under-16 Shield – Macrae's taste for turf guided him down the hill and towards Endeavour Hill's Sydney Pargeter Reserve.
His turf cricket passion is paying dividends as the Eagles' left-arm livewire earned his place in the Australian All Abilities cricket team, set to square off in a tri-series against South Africa and England.
The 17-year-old Lysterfield bowler, who has a mild intellectual disability, worked his way through the Victoria Vikings All Abilities team and a series of tryout sessions before earning a spot in a Brisbane training camp at the Cricket Australia Centre of Excellence.
Put through his paces by former Australian paceman Andy Bichel, Macrae relished his chance and was selected in the final 14-man squad for the INAS Tri-Series, starting 16 March in Melbourne.
"I was pumped to make it," Macrae said.
"Hopefully it can help me be a better cricketer in the future and I can learn a lot.
"I did a Brisbane training course – I went to the MCG to do a training session and they cut it down to 32… I trained for a few weeks and they picked the squad of 14 and (then) I went to Brisbane to do a four-day training session.
"Great facilities and it was amazing up there – great experience."
Charging through the crease with his left-arm pacers, Macrae wants to not only impress with his bowling, but hopes to add another string to his bow and make in-roads with his batting to expand as an all-rounder.
A 2012-13 hat-trick with Lysterfield capped off his junior career in style and he hopes to add to a burgeoning collection of Sub-District wickets – having snared 34 wickets already in his first two seasons of turf cricket.
He's not only a top talent in cricket, as Macrae represented the state in the School Sport Australia Cross Country Championships in Albany, Western Australia last year, finishing fourth in the Athletes with Disability (AWD) three-kilometre run.
Macrae wanted to thank his parents, the Lysterfield and Endeavour Hills Cricket Clubs, Cricket Victoria and Cricket Australia for their support.