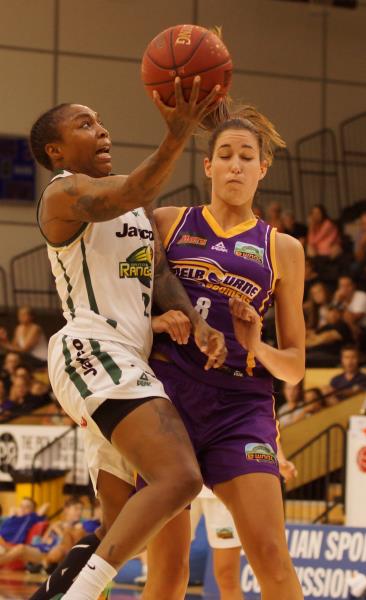 By JARROD POTTER
WNBL – Round 16
VICTORY versus City wasn't the only Melbourne Derby on Saturday as the Dandenong Rangers fell away after half-time against the Melbourne Boomers in a WNBL blockbuster.
With their WNBL season on the line, Melbourne exploded after half-time to record the 88-76 win over Dandenong, on the back of exceptional long range play from Bec Allen (25 points) and Laurie Koehn (15 points).
Allen was unstoppable from the three-point line – snaring five-from-five treys – to show just why she has been scouted to the WNBA to join the New York Liberty.
It wasn't all smooth sailing for Allen and the Boomers though, as a strong opening term gave the visitors an early six-point lead.
Dandenong's go-to weapons Penny Taylor (26 points, 9 rebounds) and Cappie Pondexter (17 points, 8 rebounds) started hitting their straps to kick things off, but the effort across the board was lacklustre from then on as the Boomers lived up to their moniker.
From 40-44 at the major break, a Penny Taylor trey was the only early highlight for Dandenong in the third term as the Boomers broke through at both ends.
Melbourne added 13 points in a row – on the back of superb defensive play and even better offensive finishing from the likes of Tess Madgen (17 points, 7 rebounds, 6 assists) to leave the match all but out of Dandenong's reach, despite a last term fight-back to drag the margin within the last few minutes.
Alice Kunek (21 points) was the other major point-scorer for the Rangers as their eight-match winning streak was drawn to a close.
Dandenong coach Mark Wright said all the credit belonged to the Boomers as his Rangers failed to fire in the crunch moments.
"Just got a lesson in following the scout – can't have Bec Allen nailing WNBA threes – I think they were on a mission today (Saturday) and we didn't match their intensity."
"All credit to them, they played like a finals' team and on that form they probably should go through.
"As good as they were we struggled and while I was happy we made a game of it – came back and tried to get it back – few too many people not paying their fare."
Wright remained uncertain if star point guard Kathleen Macleod (dislocated kneecap) would return from injury for the final home-and-away round, but was adamant she would be ready at latest by the start of the WNBL finals' series.
Dandenong will finish its WNBL home-and-away season this weekend as they head to Whyalla on Friday night to face the Adelaide Lightning before returning home on Sunday to host ladder-leading Townsville from 5pm.