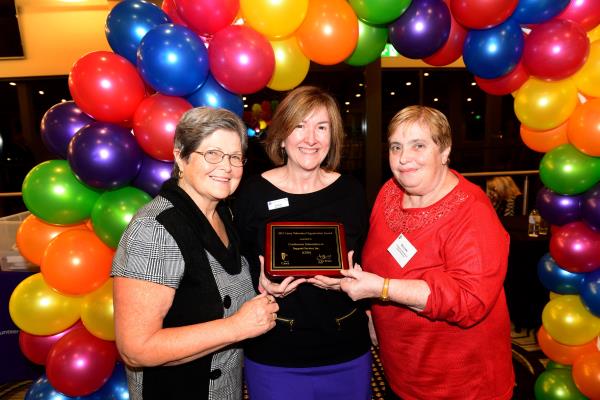 By GEORGIA WESTGARTH
STANDING in front of an archway of balloons at the 2015 Casey Volunteer Awards, Mayor Cr Mick Morland called the guests of the night "our greatest asset."
Cr Morland said sustained volunteering has shown an improvement in social connection, health, happiness and even a better night's sleep.
The room full of smiles certainly reflected this, as more than 150 volunteers and their families were recognised at the Cranbourne Turf Club on Friday 8 May.
Pairs, groups, individuals and organisations were acknowledged for their contribution to the community and this year the Casey Volunteer Award was a joint affair.
Up against 30 nominees President of the Pearcedale Country Women's Association, Sue Chanter, and President at St Paul Apostle Catholic Community Church in Endeavour Hills, Liseby Lapierre won the Casey Volunteer Award.
Ms Lapierre said volunteering has benefitted her life in many ways and the award was a really nice surprise.
"Someone once told me that there is something wrong in the world if people can't volunteer a couple of hours a week, I would encourage people to think about volunteering- it's very rewarding," she said.
Ms Lapierre volunteers up to 20 hours a week to various multicultural and inter-faith organisations and agrees with Cr Morland that she sleeps well at night.
A volunteer for the past 27 years, Ms Lapierre volunteers three hours a week at the Wellspring Dandenong centre for women.
"I look after the children while their mother is having English conversation classes, if there weren't volunteers they would not be able to come and learn English," Ms Lapierre said.
Co-winner, Ms Chanter said she has been volunteering almost all of her life and said especially once retired "you might as well wear out than rust out."
Walking one and half kilometres most mornings, Ms Chanter picks up rubbish on the side walk and has been volunteering at the Cranbourne Salvation Army Opportunity Shop for almost 22 years.
"I was very stunned to win, I thought there was far more worthy people that had done so much more," she said.
A very humble winner, Ms Chanter said "I always think if you can give back something to the community its good, there are always so many people in need of help."
The 15th annual Casey Volunteer Awards wrapped up with six winners on the night and two taking home highly commended awards.
The Casey Young Volunteer Award went to 17-year-old Mark Morante, a Year-12 student at Berwick Collage.
Mr Morante said he didn't want to trade off his volunteering with the Casey Youth Action Committee for more study hours during VCE.
"I find it a bit difficult juggling Year 12 and volunteering but I find it more rewarding than homework," he said.
The volunteer group award went to the Berwick Opportunity Shop Inc, marking their 26th year in Clyde Road, Berwick.
The shop has managed to donate around $4 million to their local community over the years, with some working volunteers more than 80-years-old.
Delivering meals two days a week and providing safe and reliable transport to medical appointments for frail and aged clients, Joan and Noel Ryan won the Casey Volunteering Pair Award.
The Cranbourne Information and Support Service Inc (CISS) won the Volunteer Organisation Award for their crisis intervention, emergency relief and counselling support over the past 35 years.
Information officer, Susan Arlove, has been a volunteer at CISS for 24 years and accepted the award with volunteer of about 16 years, Ros Larke.
Giving one day a week to CISS, long term Cranbourne resident Ms Arlove said volunteering has taught her a lot about her township and has given her a bigger picture outlook on life.
"You learn a lot from the clients that you help, about their lives and how their coping and you appreciate your own life a lot more," she said.
Who Cares? We Do and the Casey Youth Fitness Program were also awarded highly commended certificates on the night.