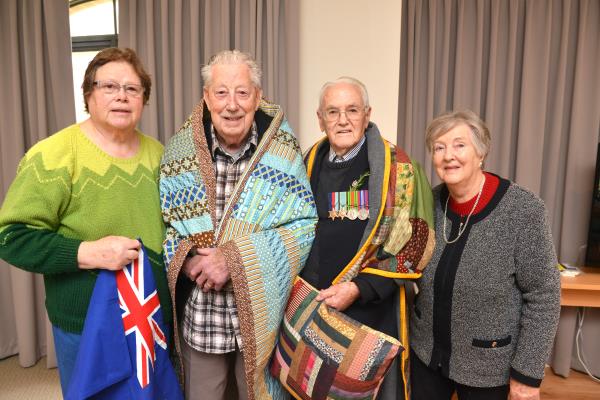 Maxwell Alwyn Llewelyn
Max joined the Army on 14 April 1942 at 19 years of age.
After only weeks of training he was transferred to Canungra, Queensland, and from there his battalion was transported by a small ship in a convey of more than 50 ships being escorted by submarines to New Guinea.
Max served in the 3rd Division 4th Brigade – Headquarters.
During his four years' service he was posted to Jacquinot Bay, Milne Bay, Lae, Finch Haven, Madang and other areas along the North Coast.
On one occasion Max was transported by a Short Sunderland flying boat to Australia on compassionate leave.
Max and three other soldiers served together over the four years and stayed in contact after discharge.
Max and one other still survive, both more than 90 years old, and still keep in regular contact with the others' widows.
On return to Australia Max was discharged from St Kilda Road Barracks on 13 September 1946.
Max has been supported throughout his life by his family and friends and since moving to Saffron Grove Retirement Village he has been enjoying the companionship of many more friends.
Reginald Tokely
Reg was conscripted into the British Army's 7th Battalion, Royal Corp of Signals in early 1940, just before his 21st birthday.
He was stationed at Whitby, Yorkshire, before he was sent over to France.
To get their trucks, filled with men and equipment, off the boat, they had to drive over floating petrol drum in the sea, with only the sight of the reflector of the truck in front for guidance!
From there he moved to Belgium and at Ostend, Reg and his two mates were required to re-establish a telegraph office for the oncoming troops to use while the rest of the troops stayed on the other side of the river.
While there Germans troops unwittingly camped beside them and began shelling the British troops on the other side of the river but Reg and his friends remained hidden.
This was the second time Reg's life had been saved.
The first was while he was training and he went absent without leave to get married.
When he returned to barracks the next day the place was empty because his entire troop had been deployed and were captured in Crete and never heard of again.
When the war ended most of the men boarded the first train back to Calais and did not return to HQ for any personal belongings, which included some medals and driving licences because they were afraid they would get caught up if fighting broke out again.
Since moving to Saffron Grove Retirement Village, Hallam, he has settled to a more companionable life.
Saffron Grove is at 8 Saffron Drive, Hallam.