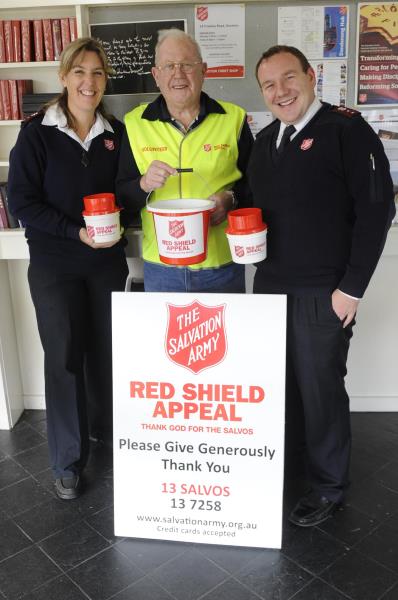 By GEORGIA WESTGARTH
THE Dandenong Salvation Army receives upwards of $1 million through the Red Shield Appeal every year.
Captain Stuart McGifford said money raised across the country is allocated and assigned to different areas according to need.
"Dandenong receives far more funding than we raise (locally) to help address the difficulties and challenges of this area," he said.
Last year Dandenong Salvation Army raised $15,000 and is hoping to raise the same amount again this year.
Mr McGifford said the money will go towards providing people with a second chance.
"We don't care if it's their fault or not, we want to help them with a way out.
"In many circumstances parents might have made the wrong decisions and their children have no way out," he said.
The Dandenong Salvation Army commonly deals with drug addiction and emergency relief but Mr McGifford said domestic violence is the most confronting part of his job.
"Ice and all drug addiction concerns us deeply, gambling tends to be a hidden issue but definitely present and domestic violence is an ongoing challenge because it often leads to someone becoming homeless which leads to multiple complexities," he said.
On Saturday 30 May and Sunday 31 Salvation Army volunteers will take to the streets tin rattling on main intersections and at shopping centres.
"We get a good response from tin rattling at intersections in Dandenong but all round we could do with some more volunteers," Mr McGifford said.
Currently the Salvation Army is looking for 100,000 volunteers around Australia to help with the Red Shield Appeal.