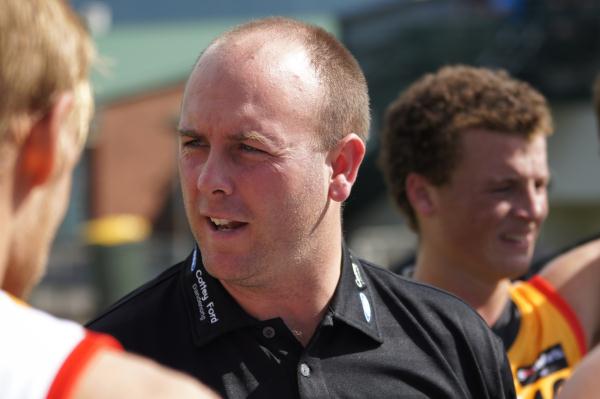 By JARROD POTTER
IT'S ALREADY been a jam-packed and accolade-filled year for Dandenong Stingrays' assistant coach Wayne Siekman.
He led Vic Metro Youth Girls to a national championship victory as head coach and he also played a major part of Vic Country's national under-18 success as one of the assistants, but there's one more major assignment on the cards as he took charge of his beloved Stingrays in a TAC Cup clash on Sunday.
Craig Black vacated the main seat just for the weekend and passed the reins to Siekman, who will earn his TAC Cup coaching debut against the Northern Knights.
"It's a great opportunity and shows how good the Stingrays' program is," Siekman said.
"While it's a great development program for the players, also a part of it is for the staff, that you get a chance to develop too."
Siekman thanked Black, Stingrays' region manager Mark Wheeler and the rest of the Stingrays' team for their vote of confidence in his coaching skills as he looked forward to taking on the biggest challenge yet in his burgeoning coaching career.
"Craig and Wheels sat down at the start of the year and said I'd have an opportunity to coach a game this year," Siekman said.
"Coming in for one week with this opportunity – it's big for Craig to be able to let me do it – and the most I want to get out of it is to prove that I can coach at this level.
"From a team aspect we want to gain on the momentum we've earned against Murray.
"Preston is a ground we haven't got the best record at over the last five years and they're a competitive side, so we'll need to match their hardness at the footy and have a good four-quarter effort."
Dandenong head coach Craig Black thought it was great for Siekman to take the reins and it shows there's plenty of room for growth in the TAC Cup even for the coaches.
"He'll coach from the box this weekend and it's great for his development," Black said.
"He's taking the whole week – from training to selection to give him the whole experience of being a head coach.
"Wayne is doing his level-three coaching and it will help him and he'll benefit from a week in the hot seat, taking the different stresses and angles when you're the head coach.
"Wayne wants to take that next step in his coaching and like the TAC Cup is a development league for players, we also see it as the same for coaches so it will be a good chance for him."
Siekman was in charge of Dandenong's Round-14 Sunday foray against Northern Knights – for more on the Stingrays' results click onto the Dandenong Journal website Monday morning.