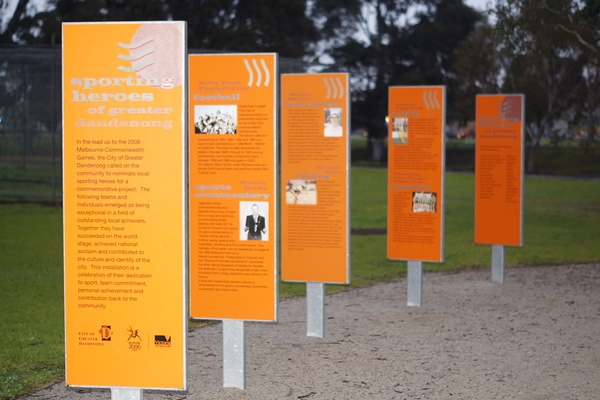 By JARROD POTTER
NESTLED in the midst of Dandenong's central sporting avenue on Pultney Street – between the football and cricket ovals and the fading memories of the bowls and croquet clubs – is a series of orange monuments to the legacy of Dandenong's sensational sporting history.
Nearly 10 years ago – with the Commonwealth Games gracing Melbourne in 2006 – the council decided the city's best sporting heroes needed to be immortalised.
After sending out nomination requests and culling the list down to the best of the area, the council finalised a list of 14 sportspeople or clubs that led the city through its amazing athletic acumen.
There are the names that are utterly familiar with and need no further explanation – Jim 'Frosty' Miller, Damien Fleming, Noble Park Football Club, Dandenong Rangers WNBL team and swimming superstar Tammy Van Wisse.
But the Sporting Heroes of Greater Dandenong weren't just the elite or most recognisable – but the people who best exemplified spirit – grit, determination and expertise were just as important as the stars we were used to watching.
Olympic Games weightlifter Robert Kabbas, who also leads Australia's medal count at the Commonwealth Games in the sport, Jayson Sutcliffe, who made his name as Australia's first elite roller skater to win a world championships' medal, cyclist Michael Ford and runner/cricket David Goodman are some of the names most people wouldn't immediately think of when going through the annuls of Dandenong sporting memories, but deserved their places in the heroes list for their sublime achievements.
Maurie Kirby – the 3XY/Channel 9 commentator who loved racing, greyhounds and Golden Glove Boxing – was one who excelled off the field, but captured the nation's ear expertly.
Margaret Ann Anderson – who in every sense of the world was Australia's great badminton champion – champion lawn bowler Marion Stevens and finally the Dandenong City Bowls Club – which sadly rolled through its last ends earlier this year – also grace the list.
The Sporting Heroes monument stands as an altar to the city's sporting successes and, hopefully, motivates those getting out onto the courts and reserves around Dandenong to reach for the peaks of their crafts like those who have come before them.