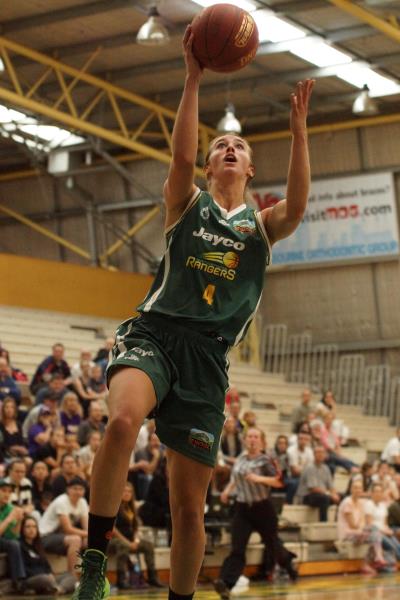 By JARROD POTTER
WNBL
TWO months out and the WNBL season is shaping up to be a wall-to-wall bonanza.
The fixture has been announced with incoming Rangers' coach Larissa Anderson set to begin her WNBL coaching career on the road.
Dandenong heads up to the AIS (Australian Institute of Sport) to face the UC Capitals before Anderson's first home game against WNBL newcomers South East Queensland and she was excited to see the season inch another step closer.
"Absolutely does – the fixture is only bounced around once or twice – now that it's released, and our first game is October 10 and it's against Canberra, so it's all becoming pretty surreal," Anderson said.
With the introduction of South East Queensland, the byes are gone from the schedule and Dandenong will have to back up from October to March with only the December holiday break to help rest up and recover.
The Rangers have to deal with four-double header rounds and a tough schedule consisting of two Perth trips and back-to-back trips to Queensland to face Townsville on Sunday 20 December before returning from the Christmas/New Year's break to clash with (SEQ) South East Queensland on Saturday 2 January.
The other unique feature of the schedule is a Monday night showdown against cross-town rivals Melbourne in an Australia Day eve battle from 7.30pm.
Dandenong's WNBL Roster has yet to be finalised with the eight signed Rangers – Sara Blicavs, Aimie Clydesdale, Steph Cumming, Alex Bunton, Lauren Scherf, Tenaya Phillips, Annalise Pickrel and Tegan Cunningham – having just begun their training in preparation for the season opener and Dandenong's first home game in Round 2 against SEQ.
"Big week this week – started on court this week with the WNBL last night (Monday) – exciting to have them all in town, everyone was training except for Sara and Annalise," Anderson said.
"It's definitely hitting home and getting exciting and once SEABL finishes we'll be able to really focus on the WNBL season.
"First home game in Round 2 will be a Friday nighter against SEQ and we'd love the support – we're a young team that will play a quick, exciting brand of basketball and we can't wait to get into the season."
WNBL memberships are available via the Dandenong website www.dandenongbasketball.com.au.
DANDENONG RANGERS 2015/16 WNBL SCHEDULE
ROUND DATE FIXTURE TIME
1 Sat 10 Oct. UC Capitals v Dandenong 7pm
2 Fri 16 Oct. Dandenong v SEQ 7.30pm
3 Fri 23 Oct. Dandenong v Bendigo 7.30pm
Sun 25 Oct. Perth v Dandenong 1pm
4 Sat 31 Oct. Dandenong v Townsville 6.30pm
5 Sat 7 Nov. Dandenong v Melbourne 6.30pm
6 Fri 13 Nov. Perth v Dandenong 7pm
7 Sun 22 Nov. Bendigo v Dandenong 2pm
8 Sat 28 Nov. Dandenong v Sydney Uni 6.30pm
9 Fri 4 Dec. Dandenong v Perth 7.30pm
Sun 6 Dec. Adelaide v Dandenong 3pm
10 Sat 12 Dec. Dandenong v UC Capitals 6.30pm
11 Fri 18 Dec. Dandenong v Melbourne 7.30pm
Sun 20 Dec. Townsville v Dandenong 3pm
12 Sat 2 Jan. SEQ v Dandenong 7pm
13 Sat 9 Jan. Dandenong v Sydney Uni 6.30pm
14 Fri 22 Jan. Dandenong v Adelaide 7.30pm
Mon 25 Jan. Melbourne v Dandenong 7.30pm
15 Sat 30 Jan. Dandenong v Bendigo 6.30pm
16 Sat 6 Feb. Sydney Uni v Dandenong 7pm
Sun 7 Feb. UC Capitals v Dandenong 3pm
17 Fri 12 Feb. Townsville v Dandenong 7pm
18 Sun 21 Feb. Dandenong v SEQ 5pm