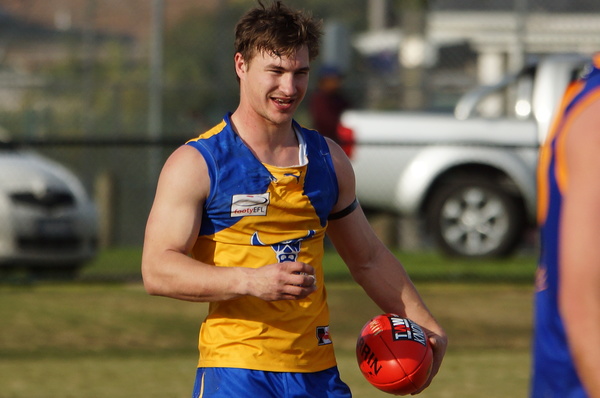 By JARROD POTTER
TURNING around the inclement form of last week, Greater Dandenong's finals-bound sides emphatically swept aside their lower ranked opponents in the last home-and-away round.
EFL DIVISION 1 – Round 18
EXCISING its wounds from two miserable losses back to back against high flying Balwyn and Norwood, Noble Park took out some frustrations in a 129-point demolition of lowly Lilydale.
Mick Fogarty's men would boot 24.16 (160) to turn around its errant form and enter the finals on a high note.
Kyle Martin had a phenomenal day out. You can put the votes in his back pocket already as the Bulls' midfielder/forward snagged 52 possessions, 11 marks and five goals in a best on ground performance.
The ball ricocheted out of the Bulls' back line at light-speed as Jackson Sketcher and the Kempermans – Stewart and Bobby – ensured Lilydale would have scant possession.
Also starring was Shayne Allan – as the forward found a heap of the pill in a seven-goal haul while Luke Cody and Jarrod Plymin (4 goals each) also savoured their time in the forward line.
"We did what good sides do and that's bounce back after a couple of ordinary weeks," Fogarty said.
"It was a great win, especially with Craig Anderson, Trent Robertson and Piva (Wright) out.
"To get them back in – those three will definitely play – we'll get some great stock back next week and we'll hopefully go to Norwood – apart from Valenti – at full strength and there will be some tough decisions this week."
Forward turned champion defender Brett Dore had to exit the game at half-time on account of his wife going into labour.
Noble Park will face Norwood at Bayswater Oval on Saturday from 2.10pm in a qualifying final.
"We set ourselves at the start of the year… people thought it was a foregone conclusion, with who we picked up, but it's a long year," Fogarty said.
"Injuries can occur and things happen… we were always confident we would make the finals and was a matter of where we finished… we aimed for top three and got it so here we go."
VAFA DIVISION 2 – Round 18
ST JOHN'S pasted Elsternwick to the wall in a 96-point whitewash. The JOCs – coming off their most heart-wrenching loss of the year last week against Ivanhoe – had champion performers across the board.
Aaron Thornton (4 goals) finished the regular season on 75 goals to finish second behind Richmond Central's Jake Munro in the league goal-kicking, while Gerald Ennis (3 goals) and Rhys Dyker (2 goals) were also prominent. The usual suspects Corey Ely, Glen Costas, Manny Jakwot and Jarrod Gaget were clear standouts in the heavenly performance.
St John's will travel to face Ivanhoe in a qualifying final on Saturday.
VAFA DIVISION 4 – Round 18
MASALA finished its inaugural Division 4 season on a high note, knocking off South Mornington by 16 points. Sam Freeman (5 goals) and Wayne McMahon were exceptional up forward alongside Zachary Kelly, Josh Kyle and Furkan Erkel. The Tigers finished the year in 10th with a 2-14 record.
SFL DIVISION 2 – Round 18
Keysborough had its work cut out against lowly Heatherton, with the home side not shying away from the contest in an eventual 36-point Burra barrage.
Newly anointed forward tandem Matt Collett (5 goals) and Davor Rajic (4 goals) swept aside the Heatherton defence while Ryan Goodes, Shane Dunn and Tim Bacic mopped things up through the middle of the park.
The Burra will now battle Murrumbeena in a qualifying final on Saturday
In other Division-2 matches Doveton Eagles lost their final match of the season, a 106-point loss to Murrumbeena, while Springvale Districts capped off the year with a gutsy effort against Hampton – losing 5.8 (38) to 7.12 (54).