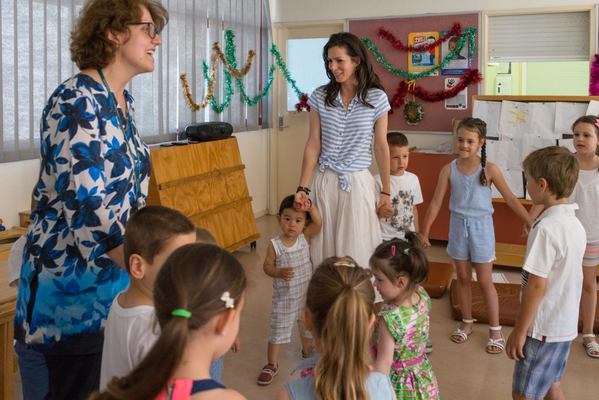 By LACHLAN MOORHEAD
WHO says kids can't learn the Serbian alphabet?
Last month children from a Serbian playgroup in Hallam were among the first kids to be given a new book which teaches the Serbian alphabet.
Mum Irena Chia, who came to Australia from Serbia when she was just seven, wrote the book after struggling to teach her young daughter the basics of the Serbian language.
She donated copies of the book, titled Fun With Serbian Letters, to Hallam Gardens Children's Centre in December, which runs a Serbian playgroup.
"Christmas is my favourite time of year because it's a time for giving, for remembering those less fortunate than us and, really, it's a time when we all become kids once again and believe," she said.
"And so in light of this spirit I wanted to give a gift to our children that wasn't merely a book but rather an opportunity for the parents, grandparents, aunties and uncles to sit down with their kids, look through the book and bond whilst sharing their own personal tales about Serbia's culture and heritage.
"For me that's the greatest gift I could possibly give to someone – a platform for them to connect with their nearest and dearest in the ever busy world we all live in."
Fun With Serbian Letters is an alphabetical exploration of all things Serbian – the places, the people, and the traditions.
In the book, printed by Amazon, each letter has a Serbian twist, with both alphabets included, while each page also has an English translation. In addition there are short poems which have been translated into English as well.
"I wrote this book because I found there was much need for it in Australia.
"When my daughter was old enough to start learning the Serbian alphabet I struggled with finding reading material that would be easy to follow and at the same time stimulating," Irena said.
"This book not only teaches the youngsters that are born and raised here our alphabet but simultaneously our culture."
The Serbian playgroup at the Hallam Gardens Children's Centre where kids aged up to five listen to Serbian stories and rhymes and participate in other fun activities.
For more information on Irena's book, visit www.funwithserbianletters.com.