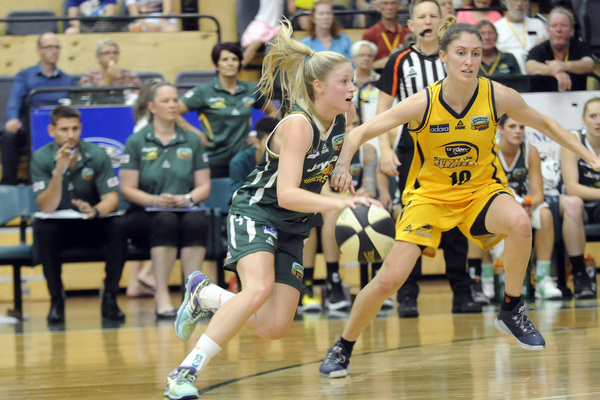 By JARROD POTTER
She has never played anywhere else … and perennial Dandenong Rangers' guard Aimie Clydesdale will not start now.
Clydesdale, 23, from Endeavour Hills has made her intentions clear for her WNBL future after she signed a two-season deal to stay at Stud Road.
Alongside back-court partner and fellow 2015/16 co-captain Steph Cumming – who re-signed last week – Clydesdale is ready for another tilt at the national competition and hopes to stay fit and firing throughout the summer.
Last season had its hiccups for the Rangers' point guard – getting derailed early on by a knee injury – but Clydesdale worked hard to get out on court for her seventh WNBL campaign and her first in the leadership ranks.
"The group of girls we had last year – I really enjoyed playing with them and to miss half the season with injury was probably more disappointing than people think," Clydesdale said.
"It was a real honour to be selected (as co-captain) in the first place last season by the girls as well and that wasn't something I wanted to walk away from."
The semi-final loss to SEQ Stars on home court still stings, but Clydesdale thinks the youthful roster is a work in progress and if it can stick together, the potential is there.
"It was a disappointing end, but the mistakes we made are fixable and we can get a nice pre-season in and go that step further," Clydesdale said.
"It is a key to being successful is holding together that core group and not having to start again – we can really build on the achievements from last season."
She's spending the winter leading the Dandenong Rangers' SEABL team – currently sitting first in the East conference with a 6-1 record – and the new-look roster has surprised many … but not Clydesdale.
"Even though it's new and in some ways young – and that focus on development – we are performing really well and had some close games," Clydesdale said.
"We need to continue to get better and get those wins come finals time, but we're just having someone different step up each week and that's making us really hard to defend.
"Clare (Papavs) and Lauren (Scherf) have been great this season, Bree Whatman coming up from youth league and having some good games and also Chloe Bibby who is 17 years old and dominating."
Clydesdale is the fourth Ranger to sign on for 2016-17 after Sara Blicavs, Chloe Bibby and Steph Cumming.