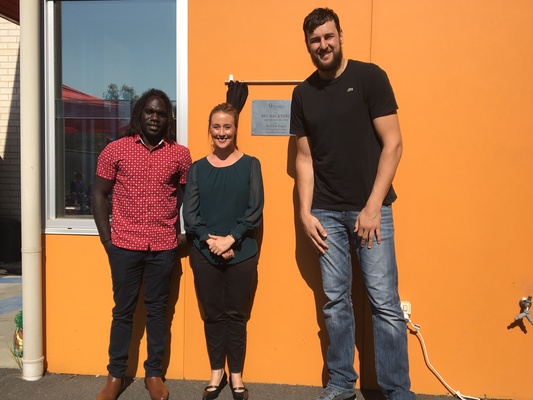 By Casey Neill
"Never let anybody say that you cannot do something."
This was among the advice Basketball star Andrew Bogut shared with Doveton College students on Monday 23 April.
He stopped by to officially open the school's new outdoor play space, "our big back yard".
"If you put the time and the effort into anything…you can do anything you want," he said.
"It doesn't just come easy. You have to put in the time and hard work."
Bogut's visit coincided with news breaking that he was ending his 13-season career playing in the US in the NBA and returning to Australia to play in the NBL with the Sydney Kings.
He told the Journal that he wanted to give the kids something to aspire to.
"It's not an area that gets a lot of positive attention," he said.
He grew up in Eumemmerring and went to St John's Regional College in Dandenong, and his dad went to Doveton Tech.
Bogut has friends in Hallam and Dandenong and said he still spent a lot of time in the area.
He told students to listen to their parents, teachers and principal, to do their homework and eat their vegies.
"Treat the person next to you and the person behind you the way you would want to be treated," he said.
"If you see one of your classmates that's a little sad or down, maybe put your arm him and ask him if he's doing ok."
He said his most important message for them was to enjoy being kids.
"I would give anything I could to be your age again and just have no responsibilities," he said.
"This is the best time of your life, enjoy it."
College benefactor the Colman Foundation funded the "big back yard".
Founder Julius Colman organised Bogut's visit.
"We want to show them they can achieve," he told the Journal.
"I don't know him. I got a number and called him out of the blue.
"He said yes."
Mr Colman told the official opening: "Andrew is an example for you that you too can do anything that you want if you really try".
College principal Greg McMahon said the space would allow kids to actually be kids.
"It's a great opportunity for our little ones to have this space to run around in and get dirty," he said.
"We're really proud of what's happened here.
"Seeing a local made good is just the inspiration they need."