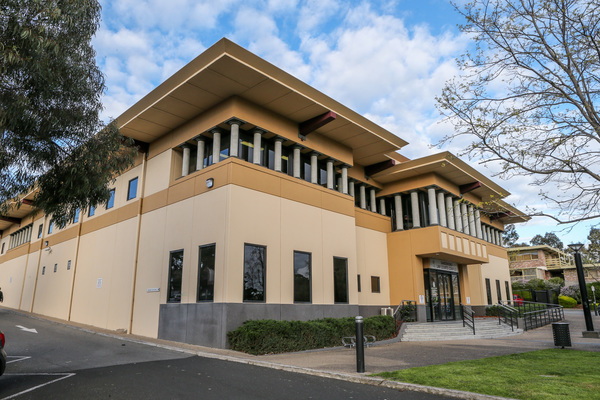 By Cam Lucadou-Wells
A Doveton man has pleaded guilty to wounding a neighbouring family dog's eyeball and face with three slices of a knife.
Alan Erskine, 54 attacked Mia, a Staffordshire-Mastiff cross, in her backyard while her owners were out on 13 July, Dandenong Magistrates' Court heard.
Casey Council officers found her bleeding profusely from three cuts around her left eye and "shivering in a state of shock".
The pet was treated at a Hallam vet – who assessed the cuts as "acute" and less than 12 hours old.
She has since resumed living with her family, next door to Erskine – "without any further issues", RSPCA prosecutor Daniel Bode said.
Leading up to the attack, Erskine complained about Mia's barking with three calls to Casey Council.
He rejected the council's advice to follow the complaints process, such as filling out a 'barking diary'.
In mid-June, he wrote an email to Casey Council about the dog's barking.
"Either you shut that up or I will."
On the night of 13 July, he rang Endeavour Police station telling them that he'd injured the dog.
"I've done something terrible."
In a subsequent field interview with the RSPCA, Erskine denied he'd cut the dog.
His lawyer David Schumpeter said Erskine's remorse was shown by his initial call to police. He had since recognised his act was "unacceptable" and "cruel".
The "daily" barking had particularly affected Erskine due to his post-traumatic stress disorder.
This stemmed from a workplace incident at a warehouse in 1994.
Since then, Erskine had lived on a disability support pension. He was single, "fairly isolated" without children nor pets.
At the 15 November hearing, magistrate Jack Vandersteen said the sentence could feature a "high level of denunciation" due to animals' dependence on human beings.
Erskine's actions weren't "spontaneous" but pre-contemplated in the email to Casey a month earlier, he said.
Mr Vandersteen requested a psychiatric report on Erskine to verify any link between his mental health and the offending.
"The allegations are serious.
"I accept there's a lack of prior history, your early plea and there's a moment of shock where you seem to take a step back and ring the police.
"You realise what you did was wrong."
Erskine will appear at Dandenong Magistrates' Court for sentencing on 31 January.