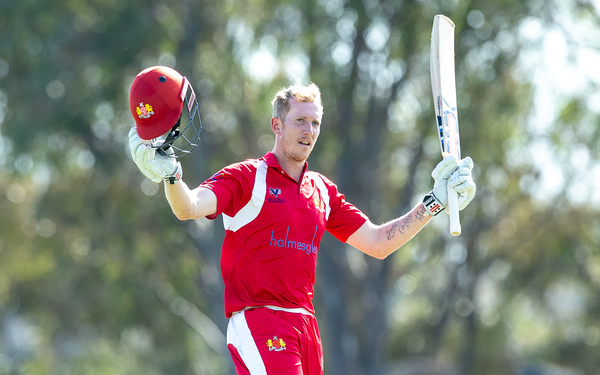 By Nick Creely
Crunching yet another glorious century on Saturday, Casey-South Melbourne skipper Luke Wells is making an almighty impact in Australia.
Not only are his Swans now in the top eight with two rounds left before Christmas after a comfortable win against Greenvale Kangaroos – a stunning turnaround in culture both on and off-field in such a short amount of time – but they can now be spoken about as one of the sides that look could legitimately make a splash at something grander this Victorian Premier Cricket season.
In Saturday's one-day match against the lowly Kangaroos, the Swans put away a side they were expected to, another sign of their ever-growing maturity.
And it came off the back of the stylish Sussex opener, who crunched his second consecutive century and his third in just six innings for the club, and in the process, guiding his side to the points.
Wells cracked an unbeaten 111 not out after the Swans – led largely by the efforts of Nathan Lambden (1/23), Dylan Hadfield (2/31) and Josh Dowling (1/34) – restricted the home side to just 6/200 off their 50 overs.
The Englishman has now racked up 467 runs at the remarkable average of 93.4, and combined superbly with emerging opener Ryan Quirk (40) to essentially set the game up with a 82-run opening stand.
Despite losing a couple of quick wickets, the Swans, through Lachie Sperling (20) and Michael Wallace (21 not out), worked together with Wells, who gradually increased his aggression and began finding the rope, to guide them to victory with a further 10 overs and seven wickets to spare.
Wells told the News that the general vibe around the club is one of positivity, and won't place limits on what is talented group can achieve, and believes there's so much improvement left.
"There's a very positive feeling around the club at the moment," he said.
"Guys are confident and we have the belief that we can beat anybody on our day. I keep talking to the guys about how well we're doing, but our biggest test will come when we're severely under pressure in a game.
"That's when I'd love someone to stand up and put in a match winning performance for the guys."
The Swans captain was full of praise for his bowlers helped set up the win, and said they played the conditions perfectly.
"It was a pretty slow wicket at Greenvale and they found it particularly hard to score against us," he said.
'I thought we bowled exceptionally well, especially Nathan Lambden, he was going at about two an over for about eight of his 10 overs and deserved more wickets for sure.
"We have six genuine bowling options which allows us to rotate well and everyone compliments each other very well."
But, with the blade, Wells and his young group got it done easy, and said the expectation is that his batting side should be chasing down under-par totals.
"We all had very clear game plans when we went out to bat and there was a stage where I thought we were going to chase them none down," he said.
"I think perhaps their spinners bowled a bit too slow and we always had a boundary option when we needed it. 200 in a 50 over game should be chased down nine times out of 10 though."
As for his own form, Wells said it was pleasing to contribute and lead from the front for his side.
"I'm feeling very relaxed at the crease at the moment," he said.
"I feel completely in control of my game again which is a nice place to be. I do feel that being captain and an overseas at the same time does make me work that little but harder to make sure we get that positive result.
"(It's) very satisfying."
The eighth-placed Swans will face Kingston Hawthorn at Walter Galt Reserve, in the second last match before Christmas.