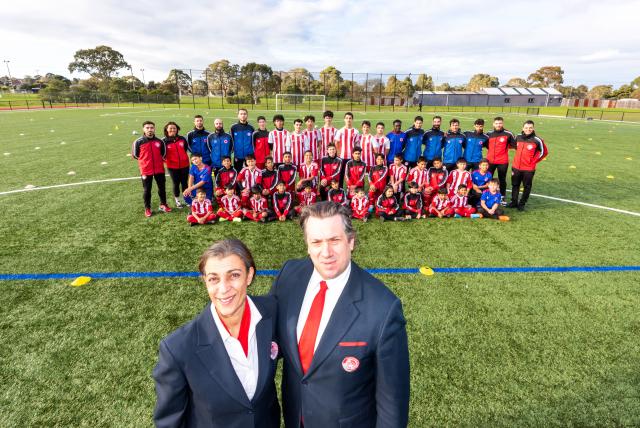 By Cam Lucadou-Wells
On a freezing, drizzly night, parents huddling in coats watch a five year boy make football look so easy.
Jogging lightly over the soccer pitch, the Olympiacos Football Academy player scans the field as he dribbles the ball at his feet.
Such is the connection he doesn't even need to watch how the ball obeys his command.
Olympiacos chief executive Steve Papadopoulos says this is the reflexive, unconscious skill that the European clubs are after.
So many Australian players are not trained in 'heads-up' dribbling, and are instead fixated on the ball at their feet. And so are overlooked by Europe.
"The two most important factors are to dribble equally with both feet and to make sure your left and right feet are as strong as each other."
At 16, European players are training once or twice a day. It puts them at an advantage to Australian teens who juggle studies and training several times a week, Papadopoulos says.
The academy currently boasts 80 players aged from five to early 20s. It aims to train children in an elite pathway who can't afford to join the A-League academies, as well as for kids to simply "get off the couch".
It's based at St John's Regional College in Dandenong, which offers a low hire charge to support the "philanthropic endeavour".
Four weekly sessions for as little as $29 is as low as it gets.
At other local academies, families are charged $30,000 a year in the hope their child will make it to the world stage.
"We have been helping poor families get their kids off the streets, improving at clubs or even getting a chance at an elite career.
"Our primary focus is first to improve self-confidence, and then it's the curriculum of soccer.
"Our program is designed for the next level. European clubs are aware of it and they are seeing the results."
Olympiacos recently helped pay for two players to fly out for a month of European trials. They were successfully signed up with Lithuanian clubs, second and third division.
This opens up their prospects on the world stage because they are now "technically European players", not just players with an "Australian biography".
"The problem is that clubs in Europe are not receptive to Australian players," Papadopoulos says.
Another 16-year-old flew out on 10 July for club trials in Portugal.
The academy also staged a tournament in Senegal, playing local professional teams and identifying local talent to play in Europe.
Olympiacos sustains its academy through its share of transfer fees from European clubs.
Head coach Argirios Mihalopoulos started in Under-10s at the academy. Many of the coaches are like him, former Olympiacos students who are now "passing it onto the kids".
His father founded Olympiacos out of the boot of his car 19 years ago, training Argirios and his best mate seven days a week.
The hard-work ethic and self-development has helped him in life and in hard times, he says.
"The program assists but it comes down to the hard work of the boys. The ones who take it on board and do the extra sessions improve dramatically.
"If they become good soccer players, it's a bonus. I'd rather they come out at the end as better humans and prepared for adult life."