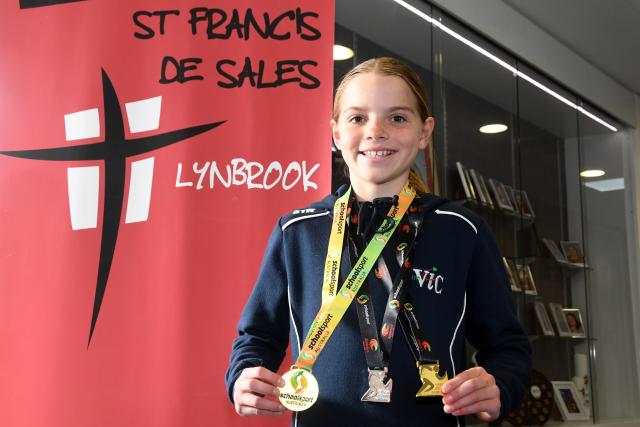 By Marcus Uhe
Andi Mole's progression through the ranks of the junior cross country talent pool has continued, finishing second in the School Sports Australia 11-year-old girls competition at the recent Australian Cross Country Championships at Canberra's Stromlo Forest Park.
Mole's time of 10.34 for the three kilometre circuit was a personal best for the St Francis de Sales Primary School student, and just three seconds behind the winner, improving nine places from her 2022 result on the same stage.
In an impressive display of her stamina, Mole made a fast start to the race and held her place towards the front of the 42-competitor field for the race's duration.
As a member of an excellent Victorian squad that dominated the age group, the talented grade five student, who plays basketball at the Frankston Blues and football for Lyndhurst, walked away from the championships with gold medals for the 11-year-old girls 5×1500 metre relay, and another for the Victorian team which won its age bracket.
Mole celebrated with her grandparents, father and brother, who attended the championships over 25-28 August, by ordering a meatlovers pizza at the local restaurant.
She credits her improved finish to her training program, which she completes in the morning before going to school, to fit around her other sporting commitments.
"At training I run five kilometres, so increasing the kilometres (makes) three not seem like a lot of kilometres, and I train harder," Mole said.
"I do most of my training on my own. Everyone else has a coach but I don't do Little Athletics, I just train myself.
"I've got footy and basketball, and that helps. On saturday I do a five kilometre (run), wednesday three (kilometres) and Monday three (kilometres)."
On her return to school on Wednesday 30 August, Mole was the Toast of the school community, dropping into classrooms to display the new additions to her burgeoning trophy cabinet.
School sports administrator Giuliana Faiola said the school community was extremely proud of Mole's accomplishments.
"The furthest a student [we've had] make it, is regional (level), whereas Andi has made it to the state and national level," Faiola said.
"She's very determined. For somebody her age, it's amazing, the determination and how much she's willing to train and everything.
"You wouldn't normally have 11-year-olds doing that."
Having made such a leap from 2022 to 2023, Mole already has sights on next year's event.
"My goal next year is to come first."