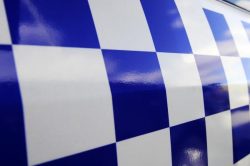 A Eumemmering teen was among four people arrested over an aggravated burglary in Leopold involving a gun.
Police said the incident occurred at a home on the Bellarine Highway shortly before 2am on Thursday 2 November.
A 46-year-old man, a 46-year-old woman and an 18-year-old man were home at the time.
Police said a confrontation ensued between them and three men who entered the property and one of the intruders fired a gun.
The group then left in a vehicle.
Armed Crime Squad detectives are investigating the incident.
They arrested a 19-year-old Eumemmerring man, a 19-year-old man of no fixed address, a 17-year-old Hampton East boy and a 17-year-old Newcomb boy in the South-East.
Police will interview them in relation to the incident.