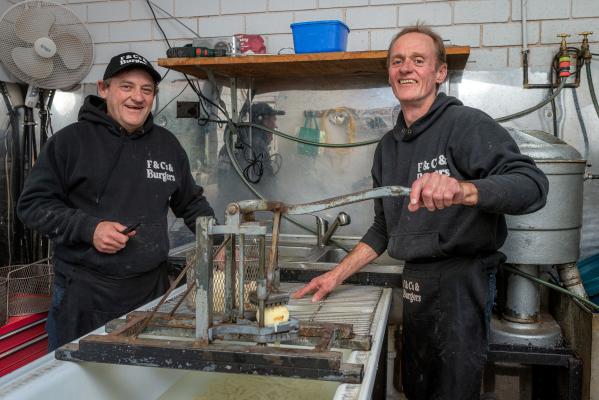 By Cam Lucadou-Wells
Two Doveton brothers say they loved their local fish-and-chippie so much, they bought the business.
With no retail or culinary experience, Graeme and Ross Noonan jumped in when Doveton Avenue Fish & Chips went on the market last year.
They were fuelled by a strong sense of nostalgia and pride in a community.
Graeme points out a few elderly residents who have lived in Doveton all their lives.
It's the "place to be", Graeme says.
He bristles at the thought that another "community icon", the Doveton pool, may be bulldozed.
The shop kept a petition on the counter urging Casey Council not to remove the historic pool – a place that holds golden childhood memories for Graeme.
Like putting 30 cents into the entry gate slot, buying a 5-cent Sunny Boy from the tuckshop, school carnivals and plunging off diving boards.
In summers past, the pool was "packed every day".
It wasn't all about swimming, but "life lessons", Graeme says.
"I remember the lifeguards made you pick up papers if you stood out of line.
"You learnt how to be part of the community. The 12-year-olds stood out of the way of the 15-year-olds who stayed away from the 18-year-olds.
"I never saw any trouble. It held you in good stead for the rest of your life."
Meanwhile, the brothers have kept alive a shop that is also a "priceless community icon", Graeme says.
"The shop had the same owners for the last 25 years, then it closed – the area was devastated.
"Not just by the shop closing but those two people were out of our lives."
Beforehand, Graeme was away for weeks on end installing NBN, Ross was in demolitions and looking for a career change.
A five-day-a-week customer, Ross saw the 'For Lease' sign about to go up.
That night, he had a chat with Graeme and the pair of lifelong Doveton lads decided to "go for it".
The former owners Jim and Voula stayed on so Graeme and Ross could learn how to cook in the "old school way".
That includes hand-making the hamburgers and souvlaki.
Carving chips and potato cakes from fresh spuds, not from frozen packets.
And learning the art of double-cooking the chips – pre-cooking in the deep fryer for three minutes, then another three minutes when the customer orders.
With the help of Jim and Voula, the pair have taken to it like a chip to batter.
"Because we've always lived here, we have so many contacts. Some friends that I haven't seen for years," Graeme says.
"I had an ex-girlfriend who broke my heart in Year 7. Her sister brought her in on Friday – she said I didn't know I broke your heart!"