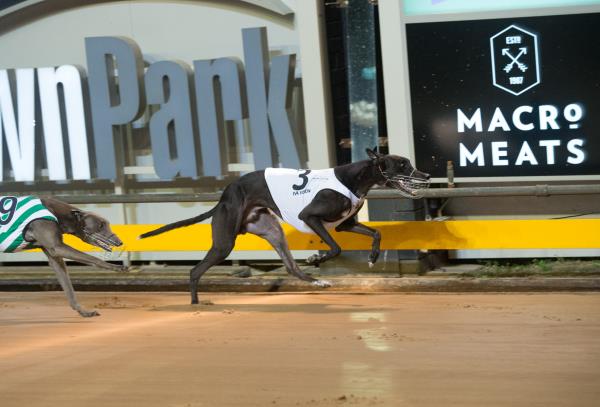 By MICHAEL FLOYD
IVA Vision confirmed itself as one of the country's premier greyhounds after leading all the way in the Group 2 Macro Meats Shootout at Sandown Park on Thursday.
Trained by Queenslander Peter Young and represented by his father Brian, Iva Vision provided the pair with the biggest win of their training career in claiming one of greyhound racing's most sought after titles.
"He jumped a lot better than he did at his last start, but I knew there were some really strong dogs in the race," Brian said.
"But he's never been passed in a race when leading and fortunately he hung on."
Iva Vision began well to lead the four-dog field to the first turn, where Oakvale Destiny (which gained a start following the scratching of Banjo Boy) shifted out and checked Awesome Project which in turn checked Allen Deed to allow the Queenslander to open a three length lead down the back straight.
Despite Oakvale Destiny's best efforts, Iva Vision held on to claim the $50,000 first prize by one-and-a-quarter lengths in 29.27 seconds.
"We bred the litter with the hope of winning a few races at Albion Park but it was pretty clear early on that he was a bit special," Brian said.
"We are fortunate to be able to stay with the Greenoughs while in Melbourne and I can't thank them enough for opening their doors and welcoming me in."
Iva Vision will remain in Victoria in preparation for Thursday night's TAB Melbourne Cup heats. The winner of each heat will progress to the world's richest greyhound race, the $600,000 TAB Melbourne Cup on Friday 21 November.
For further information about the TAB Melbourne Cup, visit www.superdogs.com.au.