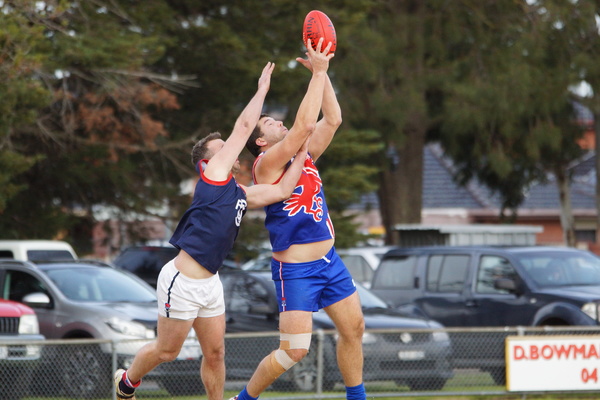 By JARROD POTTER
SFL DIVISION 2 – Round 15
ADJUSTING to life without two preeminent pieces of their potential premiership puzzle, Keysborough managed to knock off a fast-starting Springvale Districts to record win number 13.
Without star forward Tyson King and club cult hero Corey Wilkinson, Keysborough has to rearrange the decks and find new options in its pursuit of an inaugural SFL finals' campaign.
While the side had trouble starting afresh without the power-packed tandem, there was more than enough firepower from a team-wide performance to boot 20 goals and ease home against Springvale Districts.
The first quarter was played on the Demons' terms for the first 15 minutes as the efforts of Rob Johnston and Dylan Bramble made life in the Keysborough forward line difficult. Districts' Luke Morrey (3 goals) found some open space to leave the Burra's battle an uphill one, just to maintain their lead at the first break.
It was up to the Burra to strike back – with Richard Minney and Glen Hawthorn rebounded with aplomb across the Demons' forward 50.
It brought into the match Keysborough's not-so-secret forward weapon to replace King – with the big buckets of Davor 'Moose' Rajic put to the test.
Rajic (8 goals) was sensational in the forward line – with most passes sticking square in his big dukes, while his kicking was just as promising. Matt Collett (4 goals) and Bryce Sutton (3 goals) also lined up to join the party as Keysborough charged home to take the 92-point win.
The match devolved through the remaining stanzas as Keysborough booted 15 goals to three following quarter time – a sensational turn around after the Demons' early surge.
Burra coach Ryan Goodes said the new-look structure was taken to by everyone and he was pleased to see the whole side step up.
While Keysborough will have to adapt to the new style, Goodes said it's all the side can rely on coming into finals with its injury list building.
"I think our mindset wasn't probably right going in – you know it's hard to bounce back after losing Tyson and losing Wilko," Goodes said.
"Different styles depending on who we come up against – going down a different path at the moment… late in the season to start a new game style… but our hand has been forced."
Springvale Districts were gallant in defeat as Rob Johnston, Dylan Bramble and Matt Thompson threw their bodies around in the defensive end while Morrey was a perennial target up forward.
Doveton Eagles received a belting in the other SFL Division-2 match in the local region, downed to the tune of 98 points by Oakleigh District.
Division 3 – Round 16
LYNDALE has defeated Sandown by 12 points, Endeavour Hills was narrowly knocked over by seven points against Moorabbin, while Hallam and Dandenong were both beaten soundly by Black Rock and Mt Waverley respectively.
EFL DIVISION 1 – Round 15
THEY had to do it the hard way.
Once again the sleepy Bulls almost left their rampage towards the final siren too late, but were able to brush aside Blackburn by eight points.
Five-goals down at quarter time was reminiscent of last week's troubling start against North Ringwood, but this time around there was no quick spree in front of goals to amend the slow start.
From all parts the Bulls chipped away at the lead with experienced trio Tim Harper (3 goals), Kyle Martin and Ziggie Alwan (2 goals each) rattling off the majors.
It took until the final term for Noble Park to gain the lead as Blackburn faded away and couldn't hold on.
Noble Park maintains second spot in Division 1 and faces Norwood on Saturday at home.
VAFA DIVISION 2 – Round 15
ST JOHN'S cantered past South Melbourne Districts 25.12 (162) to 6.8 (44). A 14-goal opening half put the result to bed early as Aaron Thornton (7 goals) and Carson Strobel (5 goals) were unstoppable in the forward-50. Glenn Costas, Dan Cattolico and Corey Ladson were the JOCs' best afield. St John's sits outright second in Division 2 before hosting Monash Gryphons.
Division 4
Masala was soundly beaten by 152 points as Westburn Grammarians put the Tigers to the sword.