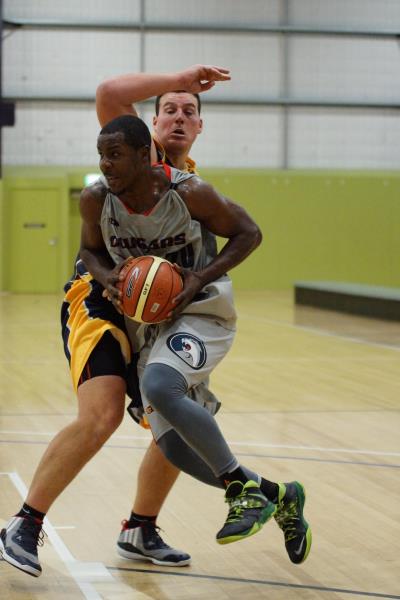 By JARROD POTTER
BIG V – DIVISION 2 FINALS
STEPPING up under post-season pressure, Keysborough booked its place in the BIG V Division-2 Men's semi-final after storming Craigieburn's house and running off with the come-from-behind 88-81 victory.
Putting to bed some of the memories of the 2012 BIG V grand final – where Craigieburn came from behind to knock over Keysborough in the three-game series – the Cougars had to work hard to edge past the Eagles by the final siren.
Craigieburn flew out of the gates – extending a 50-41 lead at the half with their home court advantage showing its true value.
But the relentless pace from coach Nathan Vogt's flat-out offence started to grind the Eagles down in the second half.
Malcolm Heard (26 points, 11 rebounds) put another all-star effort in the bank as he smashed apart Craigieburn's defences under the rim. Andrew Lowe (9 points, 11 rebounds) nearly snared a double-double off only 20 minutes court-time in a superb performance while John Constance (12 points) – hitting clutch free throws late – and Steven Haddrell (10 points) kept the scoreboard ticking over.
Not even the efforts of former Keysborough point guard Eric Miraflores (25 points) could halt the Cougars' charge towards the next playoff stage.
Vogt said he wanted to put the Eagles' bench under pressure and send the game into a frenzy the home side couldn't match.
"Basically we knew they weren't going to go too deep, so the whole time we just tried to create a high-tempo game and keep running them and hopefully crack them in the third or fourth quarter, which we did," Vogt said.
"We spent most of the night behind and according to the statistics we only spent 11 minutes in the lead… so one stage we were 12 points down in the second term, brought it back to nine at the half, and we outran them in the third and consolidated the game in the fourth to bring it home."
Keysborough will face Western Port away in the semi-final, with a time and date yet to be announced.
"The advantage for us is that Western Port hasn't played a game in two weeks," Vogt said.
"We match up well against them and have got a bit of a rivalry with them so it should be good."
Dandenong's SEABL teams played Ballarat on Sunday afternoon after the Journal went to print.