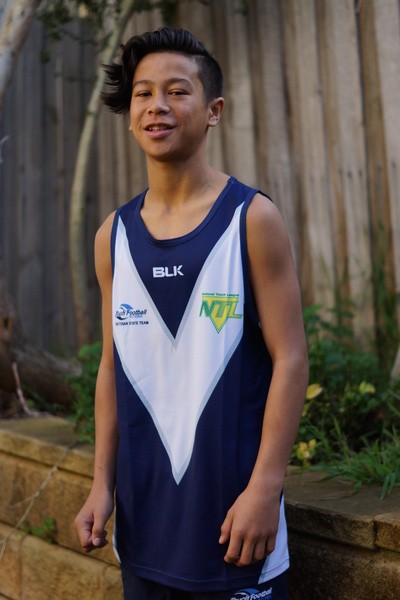 By JARROD POTTER
GIVE him a ball, a bat or generally anything related to sport and Mohi Kahui will likely step up and star.
Kahui, 14, from Noble Park, is a true sporting polymath – whenever he steps foot onto any sporting arena he excels.
His sporting list at the moment is getting longer by the day: touch football, rugby, Australian football, netball, track and field athletics and baseball.
After representing Victoria in baseball earlier this year, Kahui will add another stellar sporting achievement to his ever-burgeoning resume as he becomes a state touch football representative. The Keysborough College student will have to battle against his home nation – New Zealand – but he's ready to fly across the wings to take on the challenge at the Pacific School Games.
"It's pretty cool as I haven't played touch for a couple of years," Kahui said.
"I've played it on and off for about one year.
"I like to play middle, half-back and wing – my favourite is probably wing, so I can step people and score the tries and set up the tries as well.
"I think I've got a couple of friends in that team (New Zealand) – but it will be pretty hard versing them as they're pretty good."
Balancing his love of all these different codes is challenging, but that's the only way Kahui knows how to get into his sport – giving everything a try.
Whether infield, outfield or sacrifice hitting for the greater good of his side, Kahui loved his time playing baseball for Victoria and will likely find himself on the diamond in years to come for his adopted state.
"Just the atmosphere – it was good up there… just playing against the other states was pretty cool," Kahui said.
Kahui would love to pursue a professional life in sport… but he's going to have to experiment with his favourites for a bit longer to find out which one is his true passion.
"I just like trying out some more sports instead of just playing one," Kahui said.
"I want to be a professional sportsman – don't know which (sport) yet."
Kahui wanted to thank his parents and In2Fitness Health Club for their support.
The Pacific School Games are held in Adelaide from 21 to 29 November.