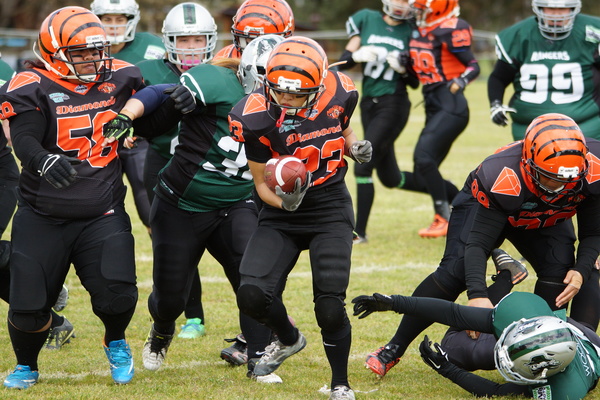 By JARROD POTTER
GRIDIRON VICTORIA Womens – Week 1
FACING the ghosts of Berwick Miners Diamonds' past, the new-look gridiron side gallantly fought out its 6-18 season opening loss to Croydon on Saturday.
But it was the Diamonds of old that shattered the current line-up's winning chances, particularly running back Bliss Love, who's 70-yard touchdown run in the fourth sealed the game.
Despite losing defensive captain Erin Gubatunga (shoulder) to a potential season-ending injury, the Diamonds' defence shone. Led by linebacker Silia Johannson, the Diamonds forced fumbles and capitalised on a number of Croydon errors.
Neither side could string together its offence through a hard-fought, scoreless first half, but it started to open up after the main break as the Rangers found some space out wide and rattled off the first score.
But Berwick returned fire soon after with a rushing touchdown at the start of the fourth term to level the ledger 6-6, as a brilliant two-point conversion by running back Sarah Mu was disallowed for encroachment.
Croydon would run in two more touchdowns thereafter to set the final margin, but Berwick didn't shoulder arms – with new quarterback Jen Allen sitting in the shotgun for most of the final term as she went aerial to try and bridge the gap.
Fingertip misses will have frustrated the Diamonds' staff, but wide-receivers Sam Kelly – only 17 years old – and Judith Fili Fa'auli proved they can become potent offensive weapons for Berwick this season.
"They held them down 0-0 in the first half and lost their defensive captain Erin Gubatunga in the first half, broken collarbone, but the team held together," Murphy said.
"We've still got some work to do and we knew it, but we'll get better.
"Some of those passes were hitting hands… it's a matter of training and a bigger matter of confidence," Murphy said.
"They're getting open, getting to the spots they need to be hit, getting 90 per cent right, but the last 10 per cent of getting the ball in the hands…
"It's a good team – they're loyal to each other and will have each other's backs throughout the season."
Murphy praised his young wide receiver Kelly in particular, who has only just started her gridiron journey.
"Sam Kelly – she's a gun – she's quick and has great balance on her feet and she's got beautiful hands," Murphy said.
"Hurt her knee in the first half, but she pushed it off and kept going."
The Diamonds will travel again in Round 2 to face the Northern Lady Raiders on Saturday 19 September from 1.30pm.