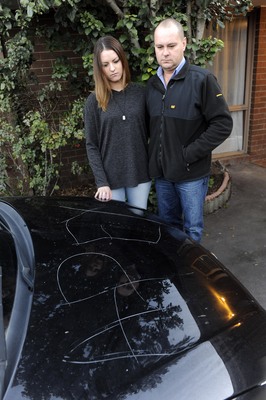 By GEORGIA WESTGARTH
THE Adendorff family of three are victims of Melbourne's outlaw youth gang surge and they have been left with a trashed car, big bill and disrupted future – things they fled South Africa hoping to avoid.
Johan Adendorff was stabbed in the neck while driving in South Africa.
The father of two girls from Endeavour Hills was then stopped at a stop sign in a small country town with his window down when the attempted hijacking occurred.
"I was stabbed with a screwdriver in 2004," Johan said.
"The guy tried to hijack my car … that and to give my daughter's a better future was why we left South Africa."
Crime was what pushed the Adendorff family out of their home town and crime is what now plagues their life in Casey.
The Adendorff family have lived in Endeavour Hills for 11 years without any trouble.
But in the early hours of Thursday 2 June, Johan's daughter, 23-year-old Nicole, had her car smashed and vandalised, with 'Apex' carved on the bonnet – for what appears to be no reason at all.
"My driver's side window and mirror was smashed but nothing was stolen," Nicole said.
Nicole's 2007 Volkswagen Polo was parked on West Vista Place in Narre Warren North when bandits went wild on a 12-car vandalism spree.
Nicole's GPS was not stolen from inside the car despite the vandals having full access to it.
"By the damage they must have used a hammer or some sort of instrument not a foot or body part," Johan said.
On his way to assess the damage to his daughter's car Johan came across two other victims.
"I was driving down James Cook Drive in Endeavour Hills and noticed a red Toyota with 'Apex' also carved into the bonnet so I pulled over," Johan said.
"A guy in a Mitsubishi also stopped and told me someone flung a wheelie bin at his car that same night and damaged his radiator and grill."
Johan said the owner of the red Toyota reported seeing four people trashing her car.
"She said she saw one jumping on her car – the Toyota was stomped on."
Nicole, now unable to drive her car to work until it gets fixed, is trying to figure out the best way to move forward – the car sitting in their garage.
Nicole has contacted the State Government's Victims of Crime to see what can be done, but is reluctant to pay $1000 in excess if she is to make an insurance claim.
On the day of the spree, Detective Acting Senior Sergeant Ivan Bobetic told a media briefing that cars across the Hallam, Narre Warren and Narre Warren North areas were affected.
"It's unknown if members of the notorious car-stealing gang (Apex) were actually involved," Det Bobetic said.
"It's certainly an inquiry that we'll be making however it would appear that this sort of offending isn't of the same magnitude or modus operandi, if you like, that we are uncovering in his particular area," he said.
While the investigation is ongoing Johan is still looking for answers.
"There's no respect for other people's property it's all extra money on top for us for someone to have fun … or whatever they want to call it," he said.
The spree comes after more than nine months of home invasions targeting Casey residents – but is nothing new to Johan.
"The crime in South Africa was really bad, the home invasions that are occurring now in Melbourne have been happening over there for many years – if someone is home they have access to everything," he said.