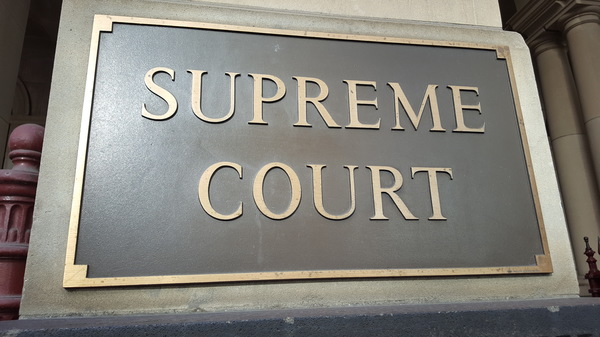 By Cam Lucadou-Wells
A man who stabbed his wife to death in a "frenzied" attack in their Hallam share-house bedroom has been jailed for at least 20 years.
In a "bitter" argument during Australia Day drinks, Douglas Eustace, 44, murdered Mary Freeman with a large kitchen knife shortly after midnight on 27 January 2018.
It was labelled the "ultimate act of family violence" and the "extreme end of abominable acts" by Supreme Court of Victoria's Justice Lesley Taylor during sentencing on 26 March.
The couple had wed in October 2017, three months after meeting at a party.
Before her killing, Ms Freeman retired to the bedroom after a bitter abusive argument with her husband, the court had heard.
Eustace grabbed a large knife from the kitchen, secreted it in the back of his trousers and went to the bedroom.
During a loud argument, a neighbour heard both parties yelling threats to kill each other.
Eustace later told police that Ms Freeman was flipping a paring knife in her hands.
He inflicted 12 sharp force wounds up to 10 centimetres deep into Ms Freeman's body, arm and leg.
During the attack, she crouched, cried, screamed and tried to cover herself, the court heard.
He was dragged out of the room in a headlock by a housemate but broke free. He stabbed her twice again before being restrained by two male housemates.
"Let me go, I want to kill this bitch," he said.
He then surrendered himself to Dandenong police station, telling police he did not know why he stabbed Ms Freeman other than being "angry and drunk".
He didn't have the right to take a life, he told police.
Ms Freeman had died in physical pain and terror of a "magnitude which is difficult to imagine", Justice Taylor said.
"The reason you ended her life in such a manner is unfathomable.
"Your actions were brutal and utterly senseless."
Justice Taylor labelled the marriage as "perhaps of convenience".
Eustace, an Indian national, had met Ms Freeman in Melbourne while he was on a visitors' visa. He had unsuccessfully proposed to her on the day they met.
After their marriage, he was on a bridging visa pending his application for a partner's visa.
Justice Taylor noted the victim impact statements from Ms Freeman's daughter, sister and ex-husband and three housemates. Their lives were left in "permanent disquiet", Ms Taylor said.
"It's clear that Ms Freeman was a much loved and valued woman.
"By your brutal actions you betrayed her trust and expectation that … violence, let alone fatal violence, would never be done.
"In simple terms, no woman should fear or suffer physical harm because her partner loses his temper."
Eustace had been of previously good character and a history of hard work as a mechanic and platform rigger, the court was told.
He'd since shown remorse with a contrite letter to Ms Freeman's family, organised a prayer group in prison and had good prospects of rehabilitation, Justice Taylor said.
Eustace's application for a partner's visa was rejected last August. He faces deportation to India after his prison term.
He was jailed for up to 25 years, with a non-parole period of 20 years. He had served 423 days in pre-sentence custody.