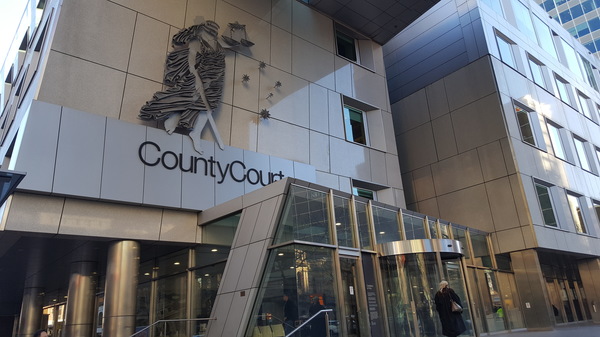 By Cam Lucadou-Wells
A former state-level soccer player who severely broke an opponent's leg during an ill-tempered futsal clash has escaped conviction.
Michael Danilov, from Melbourne's South East, pleaded guilty in the Victorian County Court to recklessly causing injury to the opponent after they had clashed several times during the match in March 2016.
As the pair contested a ball for the last time, Danilov – a former team captain and three-time Victorian representative – kicked out and broke the victim's leg.
The referee red-carded Danilov, judging the kick as too high to be a genuine attempt at the ball, the court heard.
In sentencing on 31 May, Judge Gabriele Cannon found there was no evidence that Danilov had earlier threatened to break the victim's leg.
She sentenced Danilov on the basis that he said words to the effect of "keep it up and he'll be hurt".
"But kicking his leg with enough force to break it was no accident, as you've admitted," Judge Cannon told Danilov.
"Nor was it intentional.
"It was foolish and it was reckless."
One of the victim's teammates recalled Danilov saying "I told him this would happen and he should know his limitations.
"If he can't take a hit he shouldn't be going into the challenges.
"If (the victim) was going to play rough, he should expect rough back."
Judge Cannon noted that the umpire had been losing control of the "rather willing" match marred by "sledging" and "antagonism".
She said that the victim played in a "most vigorous manner" but couldn't be blamed for his injury.
Danilov "as a mature player of significant stature" should have been more "restrained", Judge Cannon said.
"I accept you would not normally act in the way you did but on this particular day your conduct was dreadful."
The victim, according to his statement to the court, had since endured a "terrible" toll.
At the time, he'd just started to recover from a stroke that afflicted his other leg.
He took nearly four months off work without pay, and gave up playing sport due to the "shooting pains" in his broken leg.
"It's only now – three years later – he feels like he can walk as well as he could before the offence was committed," Judge Cannon said.
However, there was no "utility" in convicting Danilov – whose rehabilitation prospects were "excellent".
The judge noted Danilov had "heart-felt" remorse, no prior offences, and endured three years of legal delay.
Danilov was put on a two-year good behaviour bond, and ordered to donate $1500 to Medecins Sans Frontieres (Doctors Without Borders).