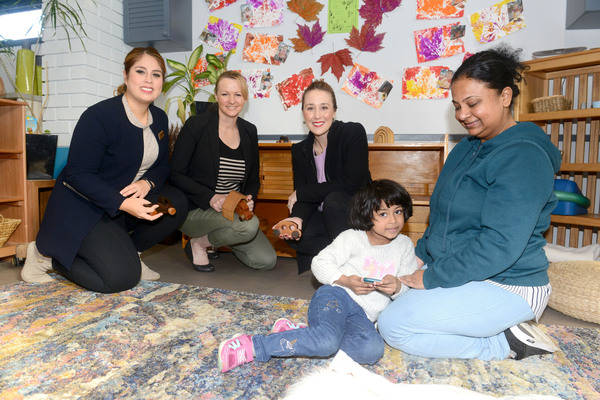 -
A new-look Chalcot Lodge Childrens Centre in Endeavour Hills has moved with the times, expanding into a community hub for groups of all ages.
The $782,000 upgrade includes a new multi-purpose community room, a flexible consulting room, a community kitchen, outdoor play area and an upgraded kindergarten.
The 40-year-old building's furnishings, fittings, equipment, facade, front landscaping and signage also get a makeover.
It will host programs such as playgroups, exercise classes and a meeting point for a wide range of social and cultural groups in Endeavour Hills.
The opening was launched by Casey Four Oaks Ward councillor Rosalie Crestani and Dandenong MP Gabrielle Williams.
"Places like these are vital anchors, which help grow greater community connectedness and reduce social isolation," Cr Crestani said.
In the past 12 months, the number of babies born in Casey rose by 5 per cent – from 4959 to 5202.
Dandenong MP Gabrielle Williams said with 90 babies born in Casey a week, there was a clear need for better maternal-and-child-health facilities.
"This Children's Centre will be a major asset for young families in our area."
Casey mayor Amanda Stapledon said the redevelopment was an example of the community's changing needs.
"By providing a dedicated community space for a diverse range of community and user groups, residents now have a place to meet, participate, socialise and connect for years to come," Cr Stapledon said.
Local Government Minister Adem Somyurek said the Growing Suburbs Fund supported "our growing community", investing $25 million into projects in Casey.
The project was jointly funded by City of Casey ($407,000) and the State Government ($350,000).